This has been my breakfast every morning for weeks. There are so many variations of how you can make this fit your calories or macros (for those that track). I pop these in the oven and go get ready for the day, when I come back I have a gourmet breakfast waiting for me that keeps me full for hours!
My version of this recipe comes in at 319 calories, 41.1g of protein, 6.6g of carbs and 12.5g of fat. This is so easy to assemble in the morning or you can meal prep most of it for the week. The only part I wouldn't meal prep is adding in the eggs / egg whites. I have not tested how this reheats yet but I would assume the egg yolk would dry out.
I keep hearing about getting my protein up. Is this something I should be concerned about? I thought we only cared about calories?
Yes, calories are all that matter, but there are ways to optimize calorie burn apart from exercise. Saying you will lose at the same rate with or without higher protein consumption is crazy, I've tested this myself many times.
Protein burns up to 30% of its own calories just to be broken down and digested. Whole foods will also require more calories just to break down and process them compared to processed foods.
If I eat 1,800 calories and 35% are from protein (157g or 630 calories) – that means I'll shave off up to 30% of it (190 calories) in just digestion. bringing down my total calories for the day to 1,610 before additional calories are burned from the breakdown and digestion of carbs.
If I had eaten 1800 calories and only consumed 20 grams of protein (80 calories), I'd burn off maybe 25 calories in the breakdown and digestion of the protein – effective total: 1,775 calories.
Eating more protein allows you to eat more food, there is enough science backing this up and enough official studies done showing it. Over the last month I switched from eating 1200-1500 calories a day, being grumpy and hungry all the time to eating 1800 with 35-40% coming from protein. I've averaged a weight loss rate of 1.5lbs per week. I'm 5'2, 163lbs and moderately active (12-15K steps per day, no additional workouts).
An additional benefit from eating higher protein is you'll preserve more muscle mass with a high protein diet, keeping your TDEE as high as possible at your goal weight.
TLDR: I just want you all to succeed and be happy. If you have the mental capacity to track protein – do it. If you're just starting out and tracking your food is already overwhelming – don't stress about this and just continue counting calories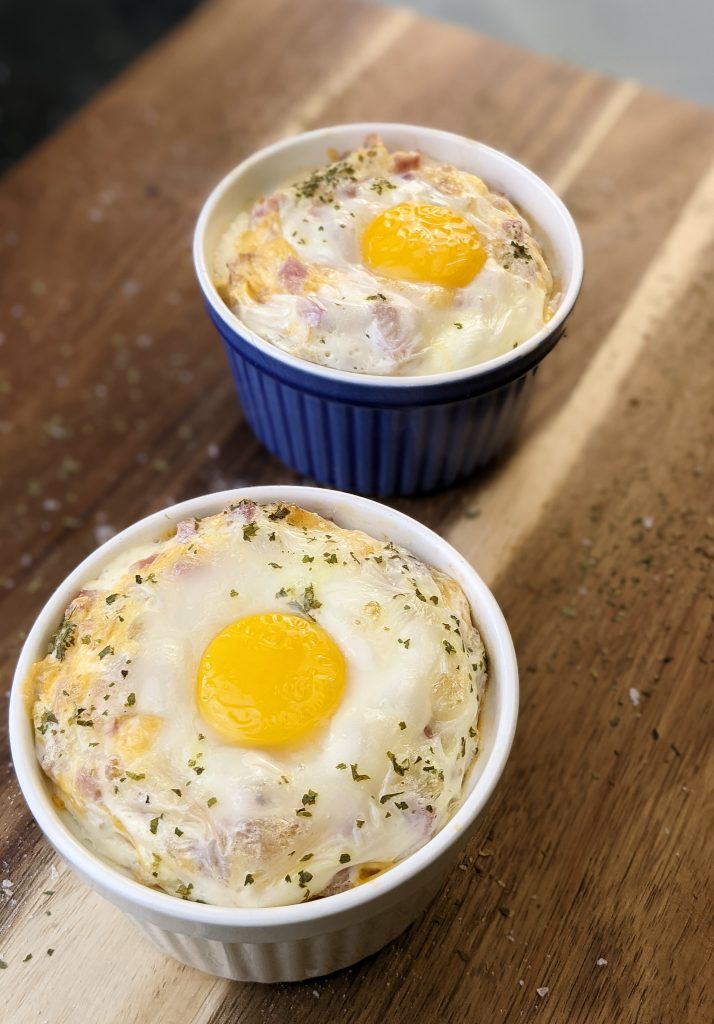 What's In It?
Eggs – I use two wholes eggs in this recipe. you can use less or none, this is just a personal preference. If you use the whites from the second egg but exclude the yolk you'll shave off 50 calories.
Egg Whites – I use pre-packaged egg whites (Costco has a bulk pack that's a staple in our house!) We use two servings of egg whites, if you don't want to use liquid egg whites you can use real egg whites but with the cost of eggs recently I can't bring myself to throw away the extra yolks.
Diced Ham – I use diced ham because it's extremely low in fat and high in protein. If ham isn't your thing substitute it with another meat of choice or exclude it. If you exclude it I would add in salt. If you are using ham – don't add salt. It'll overpower everything.
Fat Free Shredded Cheese – Some people really really can't stand fat free cheese, personally I've been using it for years and have no issue with it when it's added into recipes and isn't the main addition to the show (pizza.)
Mushrooms – I chop up mushrooms for the week specifically so I can just throw them into this every morning. You could also use peppers, spinach or tomatoes as a filler!
Diced Onions – Jesse doesn't like onions, we exclude this from his.
Parsley – Really I just sprinkle this on top of the mixture to make it look pretty. If you don't have parsley don't worry about it.
I Can't Believe It's Not Butter – Light – If you can't find this in your grocery store or don't like the idea of using fake butter – just use real butter. The recipe contains 1g and is just used to coat the pan so the eggs don't stick. It's only 5 additional calories. I tested oil vs ICBINB / real butter – The eggs come out better with ICBINB / real butter.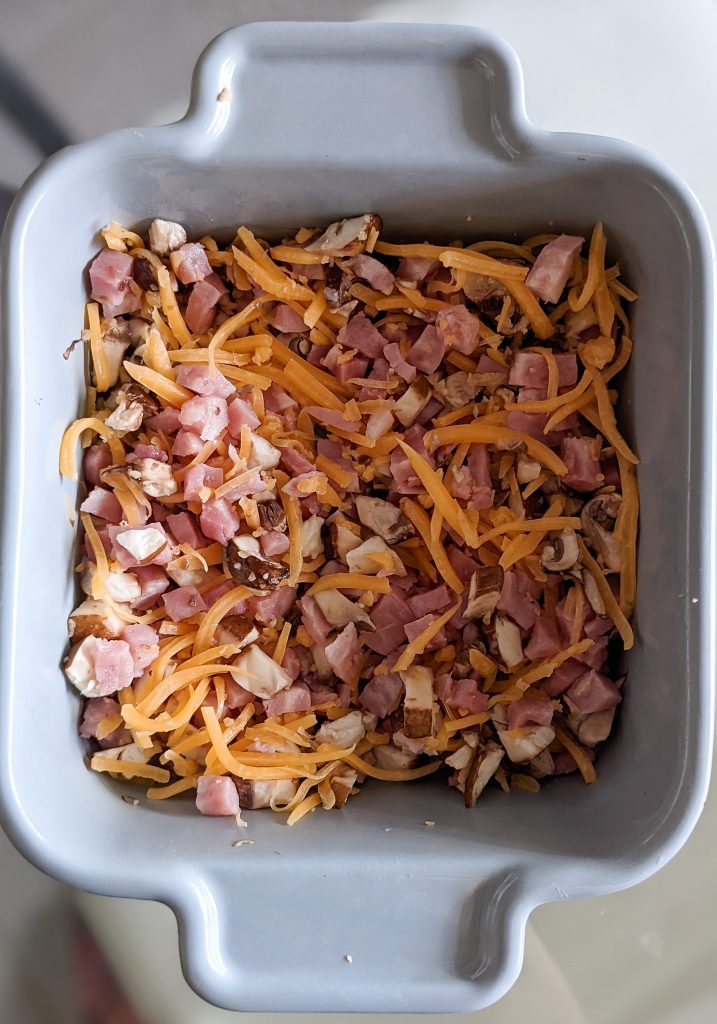 What do I bake it in?
Personally I use a 5×5 stoneware baking dish from Target: This isn't an affiliate link, it's just a product link. I don't earn any money from you purchasing this, this is genuinely what we use at home.
You can also use Ramekins! If you are going to use Ramekins I would suggest splitting the recipe in half into two ramekins so everything cooks evenly.
Super Easy High Protein Baked Omelet
Course: Breakfast
Cuisine: American
Difficulty: Easy
This easy high protein baked egg omelet is so easy to make and you can add in whatever you want to switch it up and have your breakfast never get boring! Assemble and pop in it in the oven for an easy gourmet breakfast everyday!
Ingredients
2 Eggs

92g (4 tbsp) Liquid Egg Whites

56g ( 2 oz) Diced Ham

28g (1/4th cup) Fat Free Shredded Cheddar

30g (2 caps) Chopped Mushroom

20g Diced Onion

1g I Can't Believe it's Not Butter – Light (sub: Butter, add 5 calories)

Parsley (as garnish)
Directions
Preheat oven to 390 degrees ( if using a toaster over – 400 degrees and you'll need to increase cook times)
Use 1g of ICBINB or butter to grease a 5×5 baking dish (or ramekins)
Add in Ham, Shredded Cheese, Chopped Mushroom, Onion and Liquid Egg Whites, garnish with parsley
Add in ONLY the whites from the two whole eggs. Set yolks aside ( I leave the yolks in half their shell so they don't combine or break)
Bake egg white mixture for 15 minutes at 390 degrees, at 15 minutes drop in egg yolks. Try to keep these away from the sides when you drop them in so they don't burn
Bake at 390 for an additional 7 minutes (This will largely depend on your oven, the liquid from the egg whites should be fully cooked & the top should be fluffy)
Notes
If you don't add in the yolks later they'll be overcooked. If you are discarding the yolks I would still cook this for 20-22 minutes.
Have fun with this! We tend to have left over peppers or tomatoes from other recipes that we slice up and throw in here!
Nutrition Facts
1 servings per container
---
Amount Per ServingCalories319
% Daily Value *
Total Fat 12.5g

20

%
Cholesterol 30mg

10

%
Sodium 1230mg

52

%
Potassium 178.2mg

6

%
Total Carbohydrate 6.6g

3

%

Dietary Fiber 0.8g

4

%
Sugars 2.2g

Protein 41.1g

83

%
---
Vitamin A

21.2

%
Vitamin C

1.6

%
* The % Daily Value tells you how much a nutrient in a serving of food contributes to a daily diet. 2,000 calories a day is used for general nutrition advice.