I'm Italian. This means I'm supposed to come up with a recipe that has me working in the kitchen for days to create the perfect sauce and hand make my own pasta. My nonna would be rolling in her grave if she heard me suggest jar sauce or fat free cheese. We're here to make food that tastes great, is low calorie and most importantly fit's into our busy lives. Sorry nonna.
If you haven't purchased an air fryer yet I cannot recommend it enough. We air fry almost everything (potatoes, chicken, veggies, french fries). The cooking times are so much faster. I'd go as far to say that the second most important tool in your arsenal behind a food scale is going to be an air fryer.
We use the Ninja foodie air fryer as it allows Jesse and I to cook more food at the same time. We also have the option to eat different portion sizes. This air fryer isn't cheap by any means and we only use it for the two basket design. If you don't mind cooking twice or if you are cooking just for yourself you can get whatever air fryer fits in your budget. Just get one, I promise it's worth it.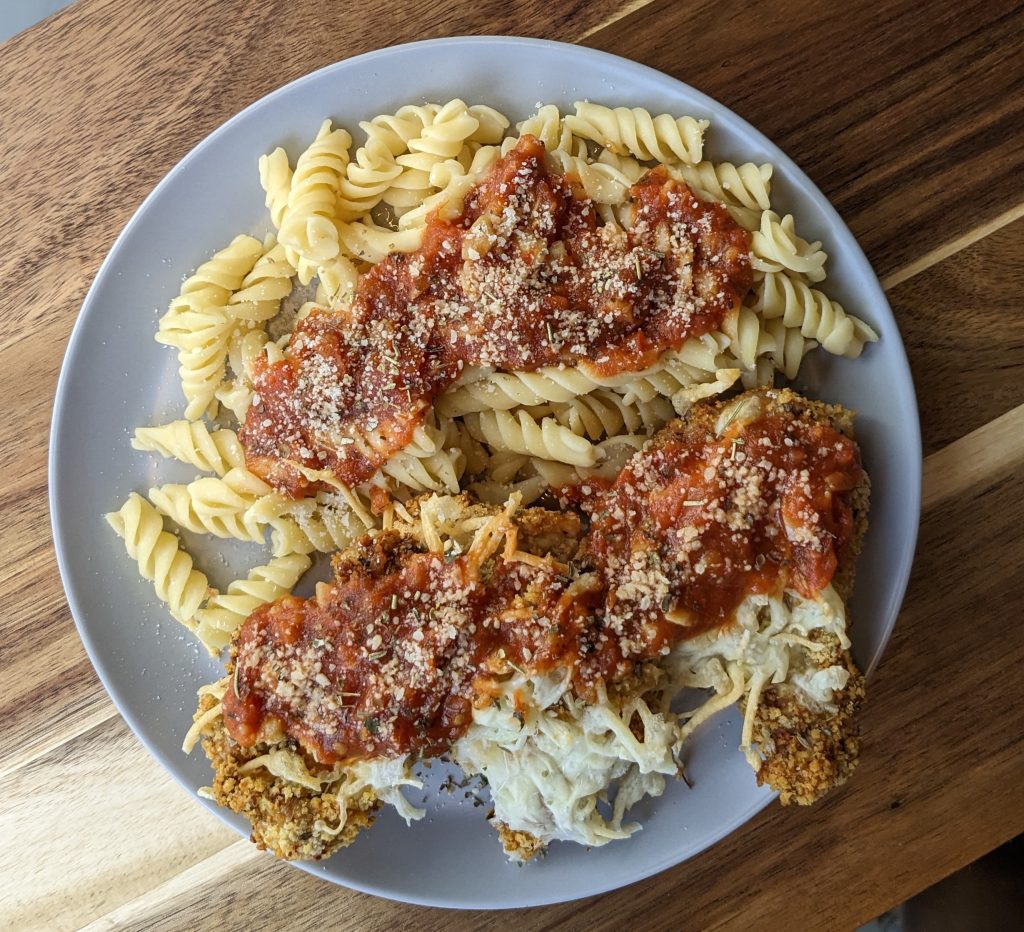 PSA:
As a reminder – My recipes call for 1/4th of a tsp of oil. This is for BOTH portions. 1/4th a tsp of oil contains 10 calories (5 are included in each portion). If you use more oil than this you will need to up your calorie counts. Just because the bottle of spray oil says "0 calories" doesn't mean it is. 1 tsp of oil contains 40 calories. The average spray into a pan contains 2-3 tsp…you do the math.
We have been cooking with no or extremely little oil for years, you don't miss it especially when using an air fryer. Also by not having that extra 40 calories, sometimes twice a day, you'll be saving 560 calories a week (hint: That's a whole entire extra meal!).
If you are just starting out and pretty far from your goal weight I wouldn't worry about tracking the oil you cook with, you are likely in enough of a deficit that you'll continue losing weight without removing or tracking oil. If you are closer to your goal weight or you recently hit a plateau, This might be the thing to help you break through it.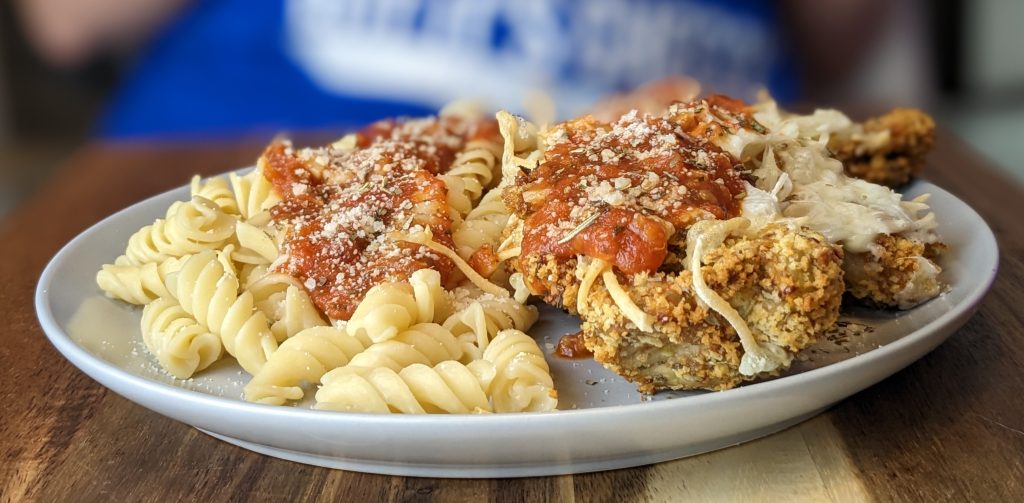 High Protein Air Fryer Chicken Parmesan Pasta
Course: Dinner
Cuisine: Italian, American
Difficulty: Easy
Ingredients
114g (4 oz, dry) Banza Pasta -Rotini

128g (.5 cup) Marinara Sauce

336g (12oz) Lean Chicken Thighs

14g (4 tsp) Mustard

28g (.5 cups) Panko Breadcrumbs

56g Fat Free Shredded Mozzarella

10g ( 4 tsp) Parmesan Cheese

1.17g (1/4) tsp oil

Salt

OPTIONAL:

1/2 Roma Tomato

4 Garlic Cloves

Italian Seasoning
Directions
Add pasta to a pan of boiling water, add salt and cover. Cook for 8 stirring occasionally.
Preheat air fryer to 375 degrees
Add chicken thighs to zip lock bag, add in mustard, close and shake or massage until chicken thighs are thoroughly coated. Add in bread crumbs and shake or massage again until coated.
Add oil to the air fryer basket and add in chicken. Cook for 12 minutes then flip and cook for an additional 6 minutes. When there is 2 minutes remaining sprinkle fat free shredded cheddar over the chicken in the air fryer.
OPTIONAL: In a saucepan combine chopped roma tomato, crushed / diced garlic & Italian seasoning. stir continuously until fragrant. Add in your pasta sauce from a jar, mix until combined. Remove from heat.
Plate your pasta and chicken. Top with sauce, Italian seasoning and Parmesan
Notes
We use Banza chickpea pasta! You can use whatever you want but this accounts for a decent amount of extra protein in this recipe
We use Lean chicken thighs from Costco – Their chicken breast is 150 calories per 4oz. This is the leanest chicken thighs we've been able to find. Alternatively you could use breasts
You don't have to add in the garlic, tomato & Italian seasoning. This has always been my way of "cheating" a homemade sauce
Nutrition Facts
2 servings per container
---
Amount Per ServingCalories535
% Daily Value *
Total Fat 15g

24

%
Sodium 686mg

29

%
Total Carbohydrate 50g

17

%
Protein 60g

120

%
---
* The % Daily Value tells you how much a nutrient in a serving of food contributes to a daily diet. 2,000 calories a day is used for general nutrition advice.