I know I know, Here you are thinking "Another microwave mug cake? Nobody want's mush in a cup Kristen…" Chill, slow your roll. We're using our oven or toaster oven today because sometimes a microwave mug cake is just fine, other times I want rich, gooey brownie cake baked to perfection.
This isn't healthy. How am I going to lose weight?
First let's stop demonizing foods. The only foods that are "bad" are foods that are rotten or spoiled. Food of any kind is not inherently bad and by labeling foods as bad or "unhealthy" you contribute to toxic diet culture and are wreaking havoc on your mental health.
This is not a "food is fuel" blog. This is an "all foods are okay in moderation, sustainable weight loss" blog.
Food can be a hobby, provide comfort, be part of a ritual, tradition, religions, etc.
Are you never going to have brownies, cakes or cookies ever again? What if you slip up and have a cookie? are you going to put yourself through the ringer because "I was bad and I shouldn't have had that cookie. I messed up my whole diet. I can't believe myself"? or… hear me out. You have that one cookie, you track it, you don't demonize food, you fit it into your day and you sustainably keep losing weight without beating yourself up.
Doesn't that sound like a healthy relationship with food? Food isn't the enemy, multibillion dollar industries that made their money teaching you to demonize foods are.
Demonizing foods isn't the way and never will be. We need to learn to embrace it, fit it into our lives and most importantly – moderate.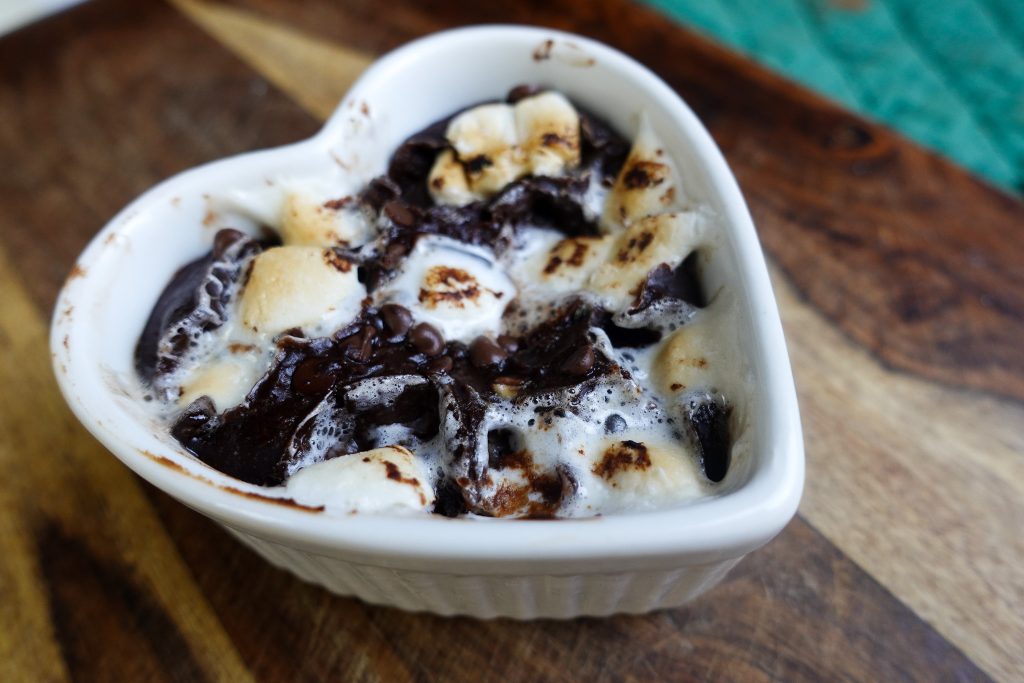 What's in it?
All-purpose flour – You can sub this with whatever flour you want. I haven't tested other flours yet. If you use self rising flour do not use baking powder.
unsweetened cocoa powder – you could also use sweetened cocoa powder but this will raise the calorie counts
Monkfruit Sweetener – I personally use Lakanto but whatever artificial sweetener works for you. I have a super sensative stomach to artificial sweeteners but I've found that when I use under 2 TBSP they don't mess with my tummy. If you want to use real sugar in this it'll increase the total calories by 48
Baking powder
0% greek yogurt – I use Fage 0% greek yogurt. Use whatever brand you have on hand but make sure it's greek
Unsweetened apple sauce – I haven't tested this with sweetened apple sauce but if you decide to use it I might lower the sweetener amount.
Vanilla extract
Water
Mini Marshmallows: These are optional but I've included them in the calorie counts.
Semi Sweet Mini Chocolate Chips – You can skip this but it really gives the brownie a much better texture and flavor profile.
Creamy Peanut Butter – Also optional but I've included this in the calorie counts
Peanut Butter Marshmallow Brownie Cups
Course: Dinner
Cuisine: American
Difficulty: Easy
Low calorie and super easy to make! These peanut butter marshmallow brownie cups are sure to be a hit!
Ingredients
15g All Purpose Flour

5g (1 tbsp) Unsweetened Cocoa Powder

10g (1.5 tbsp) Monkfruit Sweetener

1.2g (1/4 tsp) Baking Powder

28g (1/8th cup) 0% Greek Yogurt

15g (1 tbsp) Unsweetened Apple Sauce

1/4th tsp Vanilla Extract


1.25 tsp Water

5g Mini Marshmallows

3g Mini Chocolate Chips

8g Creamy Peanut Butter
Directions
Add Flour, Cocoa Powder, Sweetener, Baking Powder, Greek Yogurt, Applesauce, Vanilla extract & water to an extremely lightly oiled (>1g cooking spray) Ramekin or oven safe small dish
Mix together. Once mixed form a small hole or indent in the middle of the dish, add in peanut butter and cover with mixture.
Evenly spread and press in mini chocolate chips and marshmallows
Bake in the over at 350 for 16-18 minutes. Check by inserting a toothpick into the brownie, when it comes out clean it's ready!