Wait, I thought we were on a weight loss journey? Cookies?
Ladies and Gentlemen, I've got some breaking news for y'all: It's okay to eat cookies even if you're trying to lose weight. Yes, you heard that right! Let's break down this revolutionary concept.
First of all, let's get one thing straight: Cookies are not the enemy. They're sweet treats that bring a smile to our faces and fill our hearts with joy. And who doesn't love a good cookie? Whether it's a soft, chewy peanut butter cookie, or a crunchy chocolate chip cookie, these delicious treats are a staple in our diets. So why should we banish them just because we're trying to lose weight?
The truth is, if you're on a weight loss journey, cookies can still be a part of your diet. The key is moderation, baby! If you're eating cookies every day and in large quantities, then yes, that might not be the best for your waistline. But if you're allowing yourself to indulge in a cookie every once in a while, it's not going to completely derail your weight loss efforts.
Another thing to keep in mind is the type of cookie you're eating. If you were to go to crumbl and order a 4 pack of peanut butter brownie cookies and whatever other amazing cookies they have that week – You're going to have a bad time losing weight. For me? I'm a chocolate lover which means I have to find ways to cut down calories in recipes to continue losing weight.
Now, let's talk about the psychological aspect of eating cookies while trying to lose weight. If you're constantly denying yourself treats, it can lead to feelings of deprivation, which can lead to binges and overeating. But if you allow yourself to enjoy a cookie every once in a while, it can help reduce cravings and prevent those binges. Plus, a little bit of what you love can go a long way in keeping you motivated and on track with your weight loss journey.
And lastly, let's not forget that cookies are meant to be enjoyed! Life is short, and we should savor every moment of it, including those moments where we're indulging in a warm, gooey cookie fresh from the oven. So why not let yourself have a little fun and enjoy a cookie or two? You're human, after all!
In conclusion, cookies don't have to be a forbidden food just because you're trying to lose weight. With a little bit of moderation and smart choices, cookies can still be a part of your diet. So, go ahead and enjoy that cookie. You deserve it!
Just remember, everything in moderation.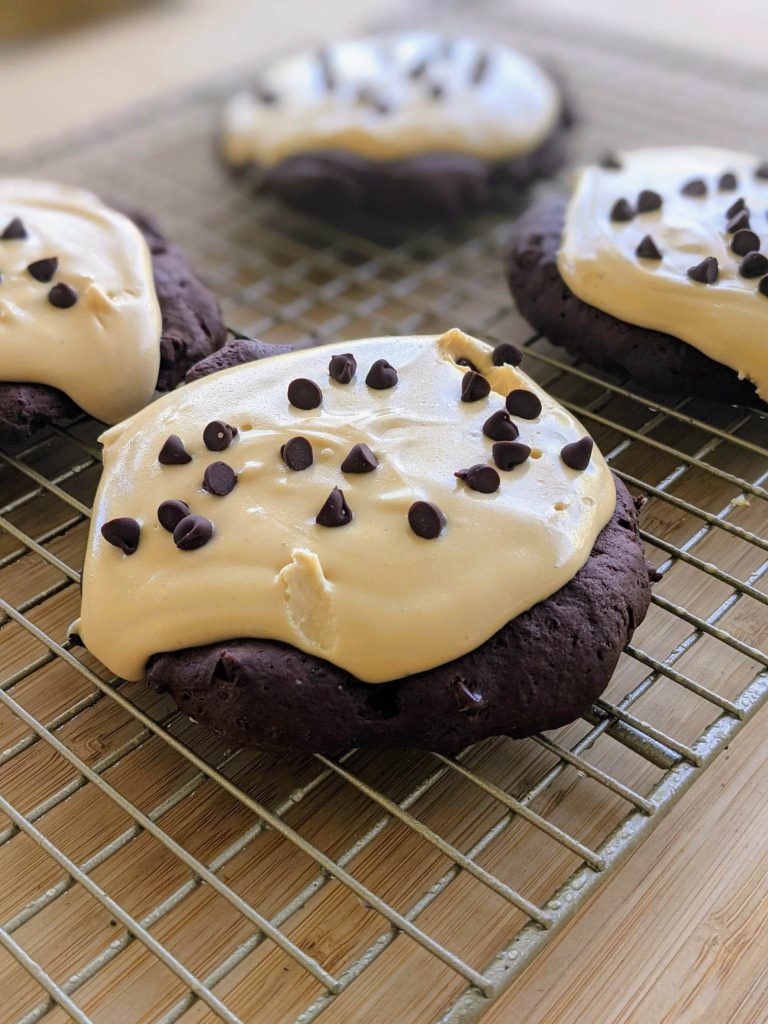 How do I make this delicious crumbl cookie copy cat recipe?
Chocolate and peanut butter were just meant to be together. And what better way to bring these two lovebirds together than with a batch of mouth-watering rich brownie cookies with a creamy, peanut butter frosting?! Did I mention these are half the calories of crumbl cookies? I KNOW. This easy dessert without the extra cost of going to a store? Sign me up.
First things first, pre heat oven to 350°F and line a baking sheet with parchment paper.
Next, it's time to mix up the brownie cookie batter. In a medium bowl, whisk together the dry ingredients (all purpose flour, cocoa powder, baking powder, sweetener and a pinch of salt).
Now, it's time to get the party started. Add in room temperature butter (I can't believe it's not butter – light), light pancake syrup, and vanilla extract in the bowl of an electric mixer using the paddle attachment on low speed. Fold in some chocolate chips and voila! Your brownie cookie dough is ready to rock. Your brownie batter should not be runny, it should be firm and able to shape into cookie form.
If you want to make small cookies you'll use an ice cream scoop to form the dough and make more cookies…but this is a crumbl copycat recipe y'all. you're going to split your brownie cookie batter into 4 balls and place them on a lightly greased cookie sheet. Bake for 9-12 minutes, or until the cookies have a crackly top and a chewy center. While your cookies are baking, it's time to make the peanut butter frosting. In a medium bowl or your food processor, beat together fat free cream cheese, greek yogurt, a small amount of zero calorie sweetener, vanilla protein powder, and pb2 until it's smooth. You could also use creamy peanut butter but this will increase the calorie counts significantly.
Once your cookies have cooled on a wire rack, spread the peanut butter frosting on top of each cookie.
The best part? You can take these buckeye brownie cookies to the next level by adding a little melted chocolate on top or rolling them in peanut butter chips! I top mine with a few extra chocolate chips. The possibilities are endless!
Don't let anyone tell you that you have to give up sweet treats just because you're trying to eat healthy. These brownie cookies with peanut butter frosting are the perfect solution – a little bit of indulgence, a lot of deliciousness. And with the addition of dietary fiber and some unsweetened cocoa powder, you'll feel good about your dessert choices.
So, go ahead and whip up a batch of these amazing brownie cookies with peanut butter frosting. And remember, sharing is caring, unless of course, you want to keep them all to yourself. In that case, store them in an airtight container in the refrigerator and enjoy as a sneaky, late-night treat. Just don't forget to sprinkle a little bit of sea salt on top for that deeper chocolate flavor.
These fudgy brownie cookies with a peanut butter filling will quickly become your new favorite dessert. Trust us, you don't want to miss out on this heavenly match. So, don't waste any more time – the easiest way to happiness is just a whisk attachment away!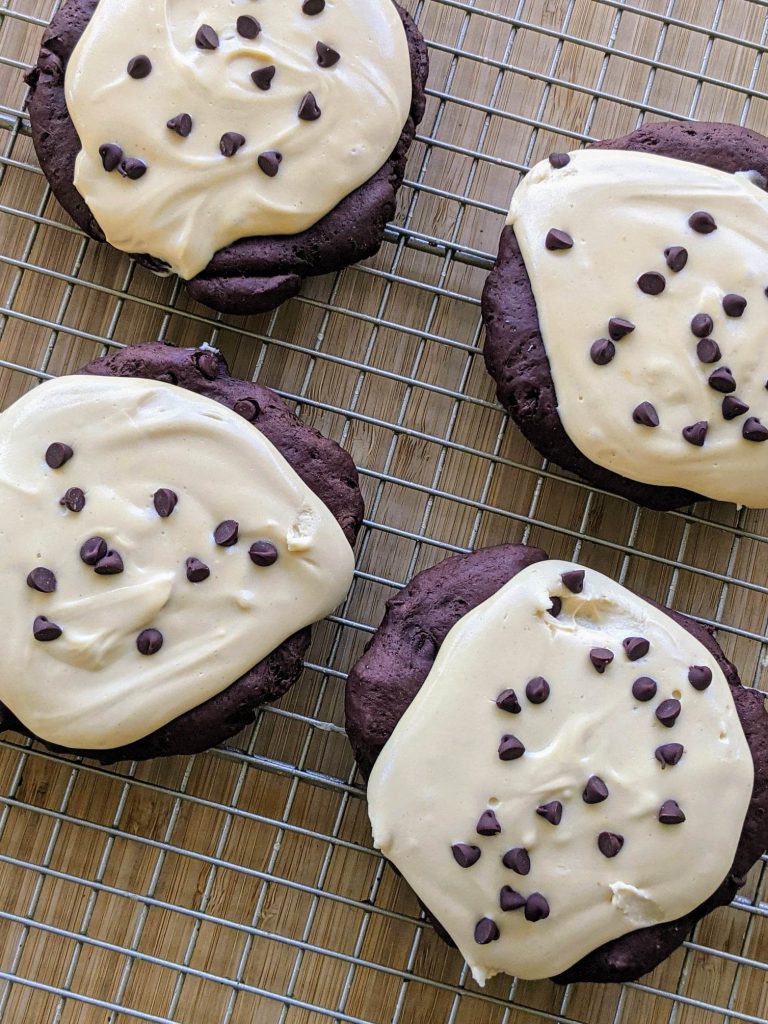 What are the calories of the cookies without the frosting?
The cookies by themselves are 212 calories, 35g carbs, 6.5g fat and 3.1g of protein.
The frosting is 88 calories, 4.8 carbs, 1g fat, 14.5g protein
The total calories / macros per cookie is: 300 calories, 39.8g carbs, 7.5 fat, 17.6g protein
THREE HUNDRED CALORIES PER COOKIE WITH THE FROSTING.
This cookie was released by crumbl a few years back and was 880 calories and a measly 8g of protein.
The Best Copy Cat Peanut Butter Brownie Cookies
Course: Dessert
Cuisine: American
Difficulty: Easy
Ingredients
FOR THE COOKIES

120g All Purpose Flour

20g Unsweetened Cocoa Powder

5g Vanilla Extract

3g Baking Powder

1g Salt ( a pinch)

5g Sugar

56g Light Butter (I use I can't believe it's not butter – light)

80g Light Pancake Syrup

28g Mini Chocolate Chips

FOR THE FROSTING

110g Fat Free Cream Cheese

113g Plain Nonfat Greek Yogurt

30g Vanilla Protein Powder (I use a whey/casein blend)

5g Sugar

12g PB2
Directions
MAKE THE COOKIES:
Pre heat oven to 350°F and line a baking sheet with parchment paper.
In a medium bowl (or the bowl of your stand mixer), whisk together the dry ingredients (all purpose flour, cocoa powder, baking powder, sugar and a pinch of salt).
Add in light butter, light pancake syrup and vanilla extract. Use the paddle attachment and mix together on a low-medium speed. If you do not have a stand mixer fold together until dough forms.
Fold in chocolate chips and split into four equal dough balls
Place dough balls on your baking sheet and firmly press down in the middle using the bottom of a drinking glass. This will spread out the cookie so you can add on your frosting later. Make sure not to press too hard and go through the cookie!
Bake for 10-12 minutes, once done let the cookies cool completely before adding on frosting
TO MAKE THE FROSTING
In a food processor or blender add in all ingredients. Blend together for 1-2 minutes. Once cookies have cooled split equally and add frosting on top of cookies
Optionally you can top with a few chocolate chips, a sprinkle of sea salt or cinnamon toast crunch seasoning!