Are you tired of boring, bland chicken for dinner? Look no further, because chicken cutlets cooked in an air fryer are the answer to all your poultry prayers.
This air fryer chicken cutlet recipe is so easy with such a short cook time theres no excuse not to make these in bulk and have a ton of leftover chicken cutlets for the week!
First off, let's talk about why chicken cutlets are the ultimate versatile dinner option. Not only are they easy to make, but they can also be paired with any type of side dish and can be seasoned in a variety of ways. Plus, they're a great option for meal prepping, as they can be made in advance and stored in an airtight container in the fridge for future meals.
Now, let's talk about why the air fryer is the superior way to make chicken cutlets. Traditional methods, such as deep frying, can leave your chicken greasy and heavy. But with an air fryer, you can achieve crispy, golden brown cutlets without all the added oil significantly reducing the calorie counts. Plus, the cooking time is significantly shorter than oven baking.
What makes these lower calorie than traditional chicken cutlets?
In our recipe we completely exclude using an egg mixture, egg wash, egg whites or any other variation of eggs. We also skip using any form of all purpose flour . The only things we are using are raw chicken, mustard and our breadcrumb mixture to make our breaded chicken cutlets.
I know what your thinking…Kristen, Mustard?? I don't want my crispy chicken cutlets to taste like mustard, I want juicy chicken breasts. I promise you won't taste the mustard. Think of it as a vehicle to get your plain breadcrumbs to stick.
We'll also be air frying or baking our chicken cutlets which will significantly cut down the calories without compromising the flavor.
How do I make chicken cutlets in the air fryer?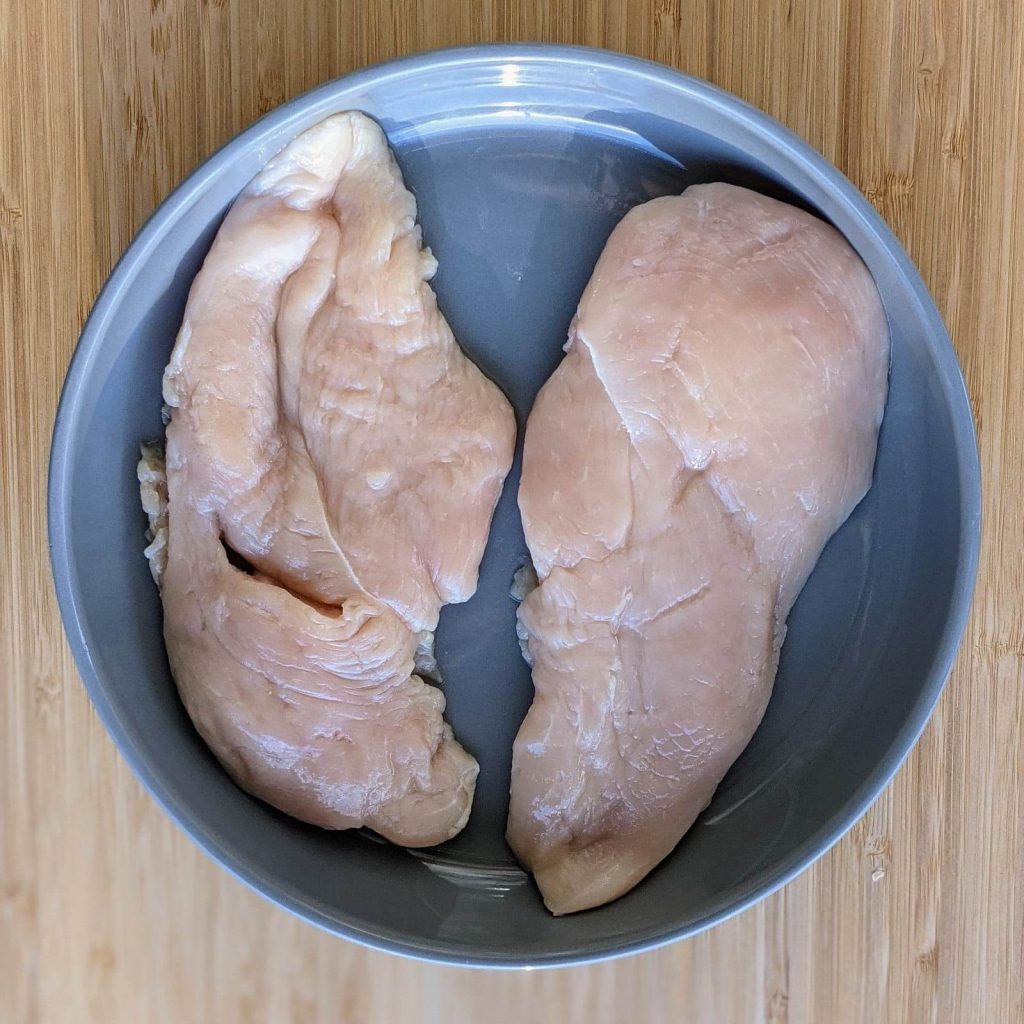 To make the perfect chicken cutlets in an air fryer, you will need:
Boneless, skinless chicken breast
A mixture of regular breadcrumbs or panko breadcrumbs. Optionally you can add garlic powder, onion powder, black pepper and Italian seasoning. (If you want to skip mixing it yourself just buy pre-seasoned breadcrumbs from the local grocery store to make your breaded cutlets)
Mustard
Cooking spray or olive oil spray
A meat tenderizer (optional)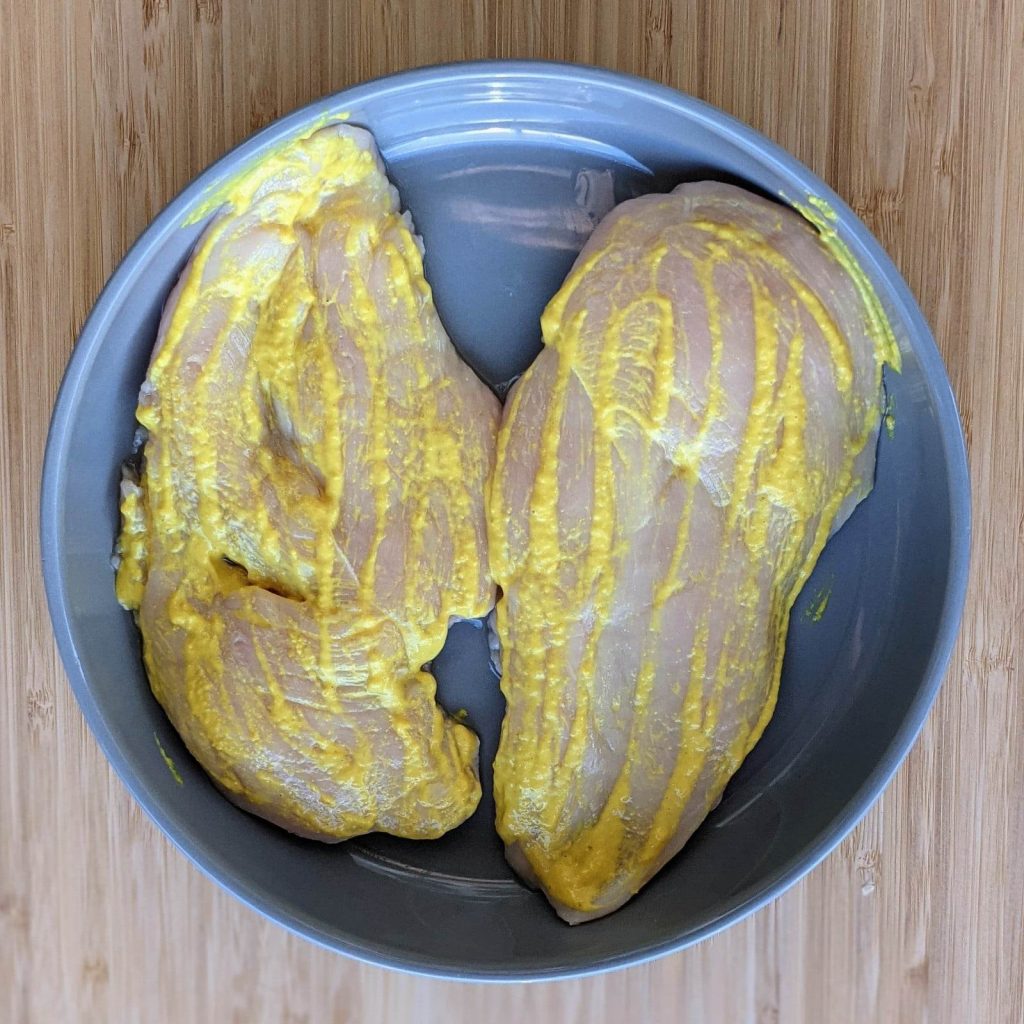 Start by preheating your air fryer to 375 degrees Fahrenheit.
While that's heating up, take your chicken breast and pound them to an even thickness using a meat tenderizer. If you don't feel like doing this you don't have to. I find that when I do tenderize the chicken, it will cook evenly. Next, lightly coat your boneless skinless chicken breast in a small layer of yellow mustard.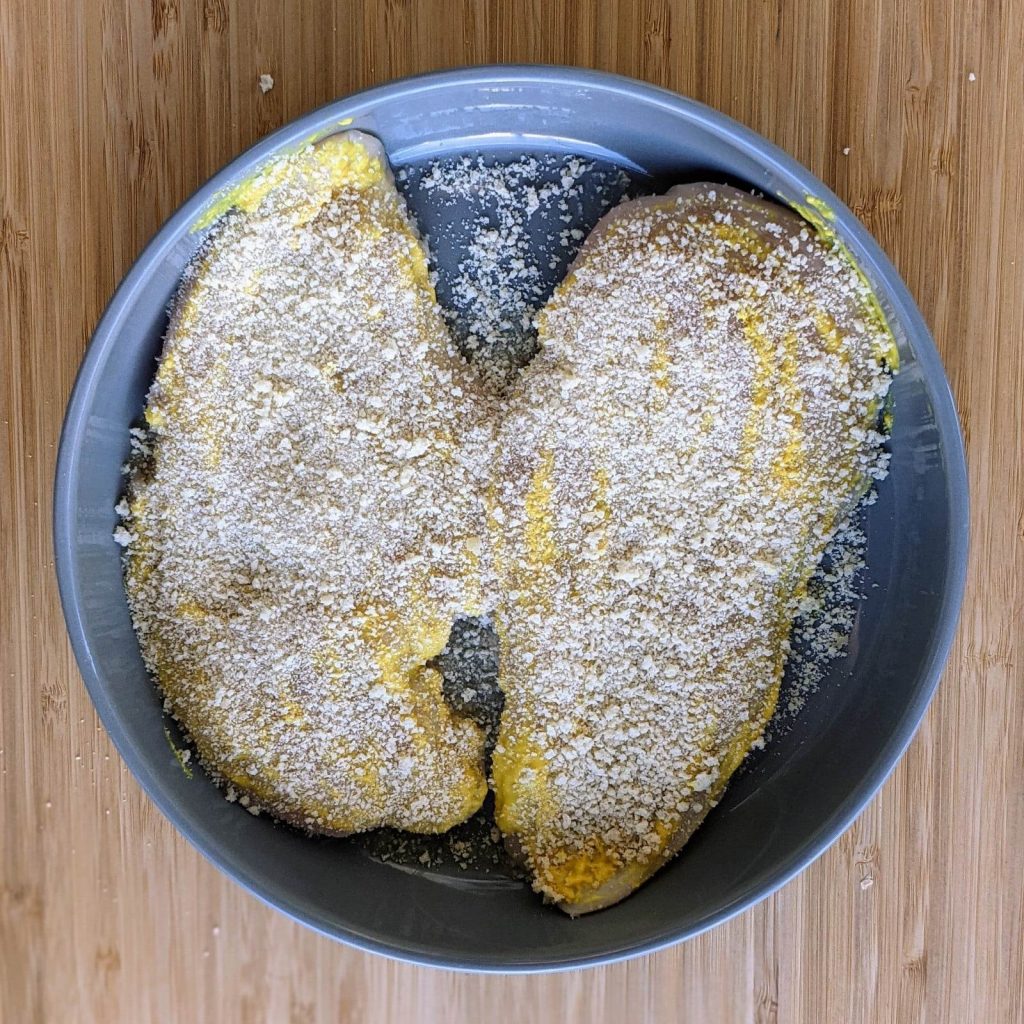 Make sure the chicken is placed in a single layer in the air fryer basket, and give it a light spray of cooking spray or olive oil. Cook for 12-15 minutes or until golden brown, flipping the cutlets halfway through. And that's it! You now have perfectly crispy air fryer chicken cutlets that will make the whole family happy.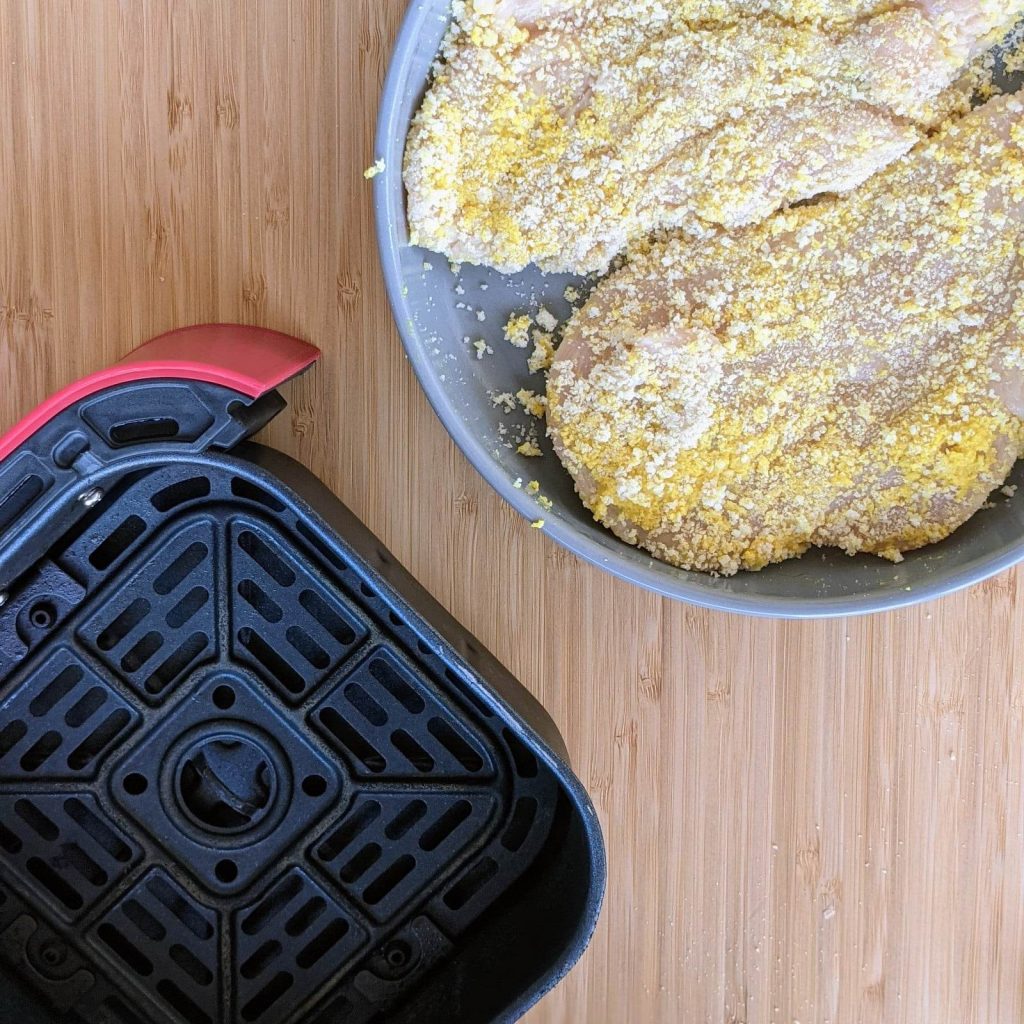 To switch things up, you can also try breading your cutlets with panko bread crumbs for an extra crispy texture. You can also experiment with different seasonings to give your cutlets a new flavor every time. My favorite way is to add a little parmesan cheese into my panko mixture.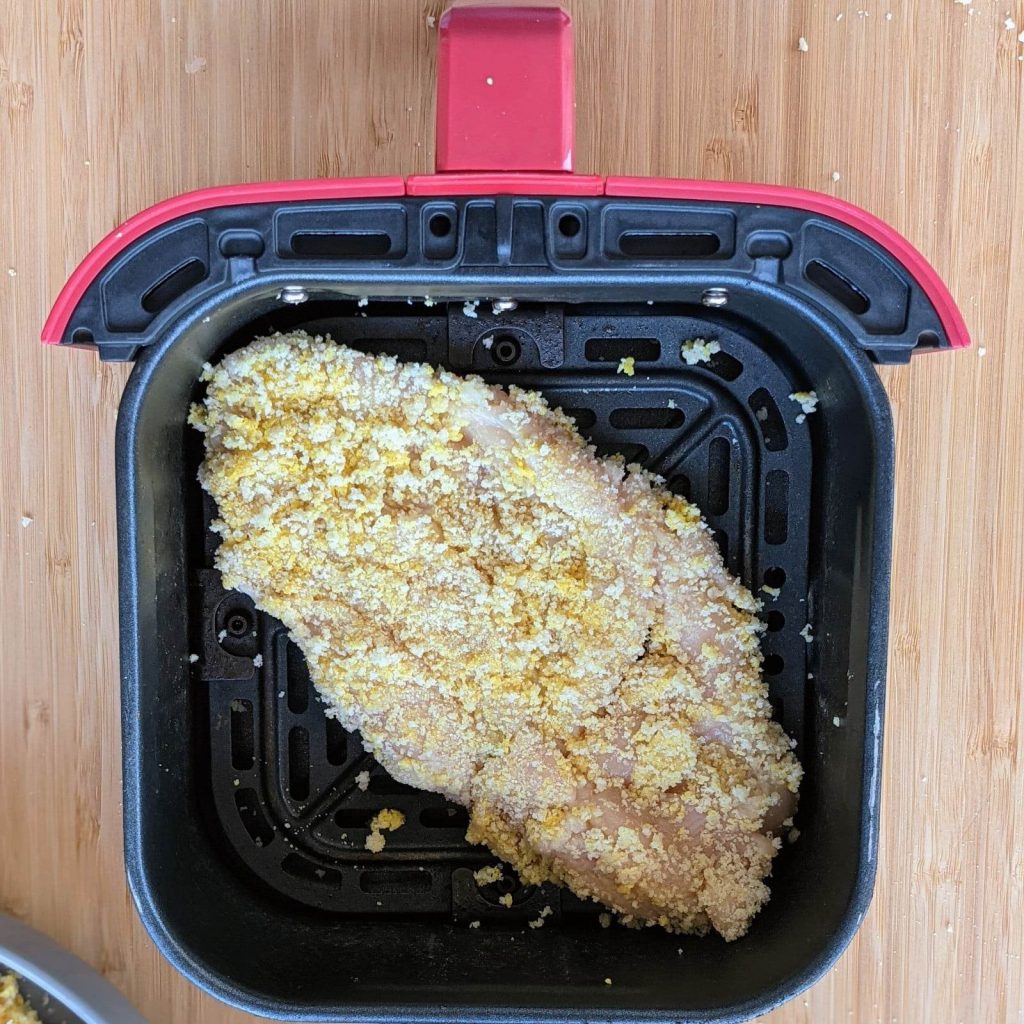 But don't stop there, chicken cutlets can be used in a variety of air fryer recipes. Try crumbling them up and adding them to a salad or sandwich, or even cut them up and add them to a pasta dish. The possibilities are endless. Plus, you can make extra cutlets to have on hand for quick meals during the week.
So why settle for boring, bland chicken for dinner when you can have crispy, flavorful chicken cutlets made in an air fryer? Say goodbye to deep frying and hello to the delicious world of air fryer chicken cutlets. Make sure to save this recipe card for future reference and enjoy your delicious and simple meal.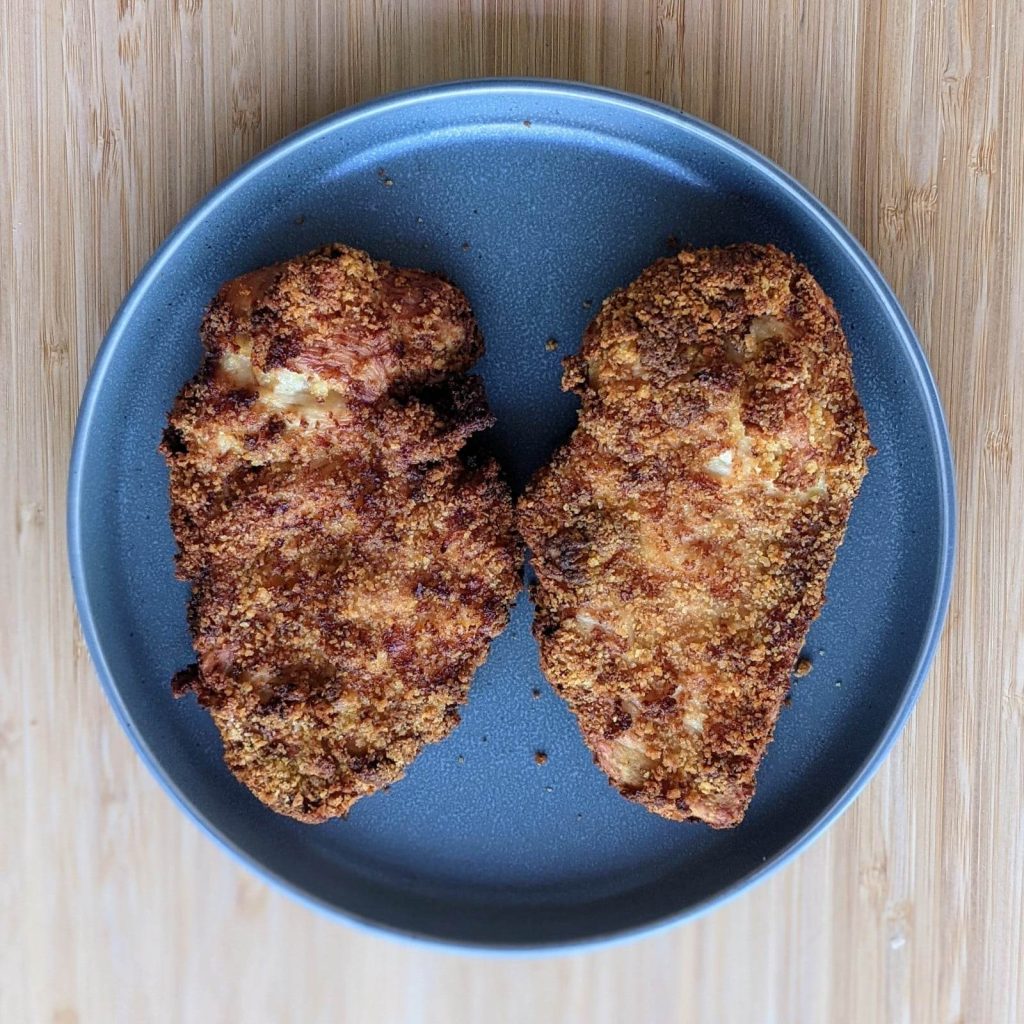 I don't have an air fryer….Can I bake these instead?
For those without an air fryer, you can still make delicious, crispy chicken cutlets using your oven.
Start by preheating your oven to 425 degrees Fahrenheit. While that's heating up, you'll follow the same steps as the air fryer method the only difference is you'll place the breaded cutlets on a baking sheet that has been lightly coated with cooking spray or olive oil. Cook for 20-25 minutes or until golden brown, flipping the cutlets halfway through the cooking time.
Just like the air fryer method, you can switch things up by using panko bread crumbs for an extra crispy texture or experimenting with different seasonings. Baking the chicken cutlets in the oven is a great option for those without an air fryer and it will still give you the crispy, flavorful result you desire. Just bear in mind that it will take a bit longer than the air fryer method, as well as that the cooking time may vary based on the size of your cutlets and the oven.
What are the calories?
I use jumbo chicken breasts in this recipe (you can also use chicken thighs instead!) The calorie counts of what you make at home will most likely be different than what I have listed here.
"WHAT!?! Kristen! You liar! You scoundrel! How dare you!"
Hold your horses! What will make the difference in the calories is going to be portion sizes, remember I said I'm using jumbo chicken breast. If you bought normal size chicken breast, congrats! This will be much lower calorie! If you somehow found larger chicken breast than I'm using the calorie counts will go up. You should also adjust the amount of breadcrumbs / panko you use to get full coverage of the chicken breast you are using. I find the 1 serving of breadcrumbs / panko is more than enough to get everything fully coated!
Air Fryer Chicken Cutlets ( Low Calorie, No Egg, No Flour )
Course: Dinner
Cuisine: American
Difficulty: Easy
These air fryer chicken cutlets are so easy to make for a quick dinner. garnish them however you like or cut them into chicken strips and serve in a salad
Ingredients
200g Chicken Breast (or 1 jumbo cutlet)

5g-10g Yellow Mustard

14g Bread crumbs / panko (I use seasoned!)
Directions
Preheat your air fryer to 375 degrees Fahrenheit.
(optional) pound the chicken breast to an even thickness using a meat tenderizer
Coat the chicken in a thin, even layer of mustard
Sprinkle breadcrumbs over the chicken evenly on each side
Lightly spray air fryer with cooking spray. Air fry for 12-15 minutes, flipping the chicken halfway through the cook time
Enjoy in salads, wraps, by itself, sprinkle lemon on it or whatever you feel like that day
Notes
Amounts of breadcumbs / panko needed will vary based on chicken size
To make these more like nuggets cut them prior to breading