The name is lose weight, eat pizza…Did you really think I wouldn't have a super easy pizza dough recipe up my sleeve? As someone who loves pizza, I can confidently say that the dough is the foundation of a great pizza. It's the base that holds all the delicious toppings together and it's what makes or breaks the pizza-eating experience.
I've been home making my pizza dough for as long as I can remember. It's been a game-changer. The crust is crispy on the outside and soft and chewy on the inside, exactly how a pizza crust should be.
The best part about this dough? It's SO east to work with. It rolls out smoothly, doesn't stick to the rolling pin and holds its shape perfectly, making it a breeze to transfer to the pizza pan. I also love that I can control the ingredients and adjust the flavor to my liking.
I highly recommend giving this homemade pizza dough a try. It's an easy and delicious way to take your pizza game to the next level. The result is a truly delicious and satisfying pizza that is sure to please any pizza lover.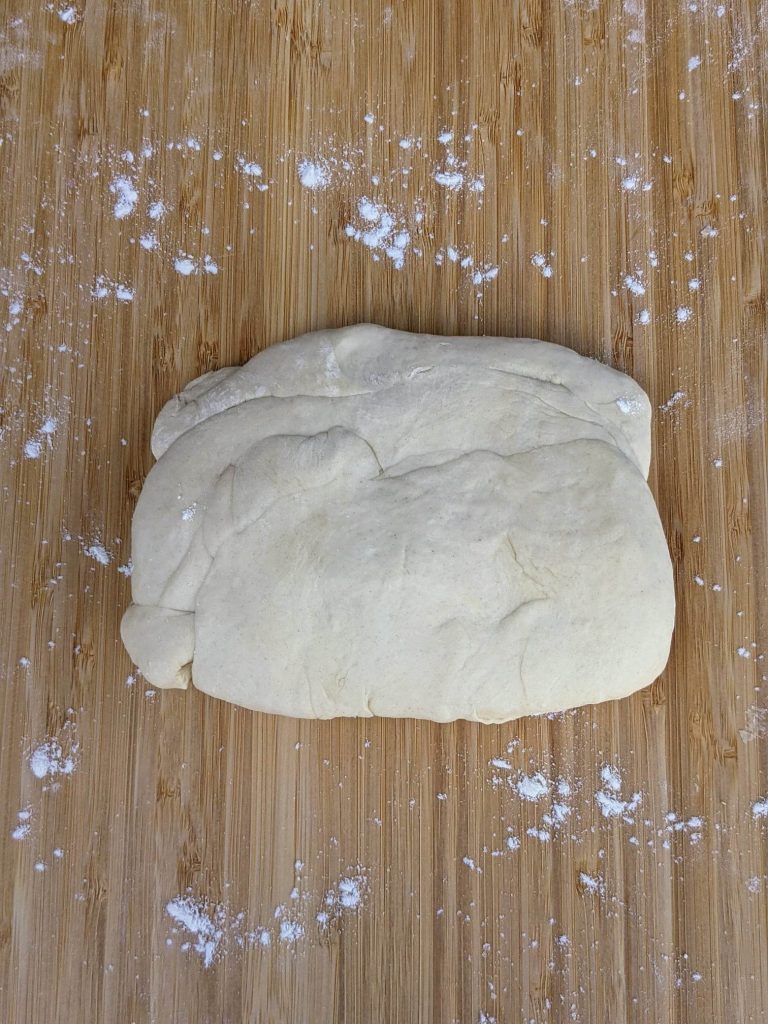 Don't I need to use oil?
Pizza dough is a staple in my house, and for good reason. The combination of a crispy crust and flavorful toppings is hard to beat but many recipes call for the use of oil in the dough which significantly ups the calorie counts. Oil is not actually necessary for making great pizza dough. Oil can also cause the dough to rise less, resulting in a flatter, less flavorful crust. Additionally, oil can also affect the texture of the crust, making it less crispy and more dense.
So, what can you use instead of oil in your pizza dough? Water is the main ingredient in pizza dough, it hydrates the flour. If you want to add some fat to your dough, you can use a small amount of I can't believe it's not butter or you can use oil – but I'd use a lot less than is generally recommended. You can also add in spices like basil, oregano or garlic to give the dough some extra flavor.
To make great pizza dough all you really need is flour, baking powder, salt, and water. This simple combination will result in a crispy, flavorful crust that is perfect for any pizza toppings. The best part? I don't use yeast in this recipe which means you don't have to sit there hoping you got it right, proofing the dough and waiting forever to make a pizza! With our recipe you'll be well on your way to making delicious, homemade pizza.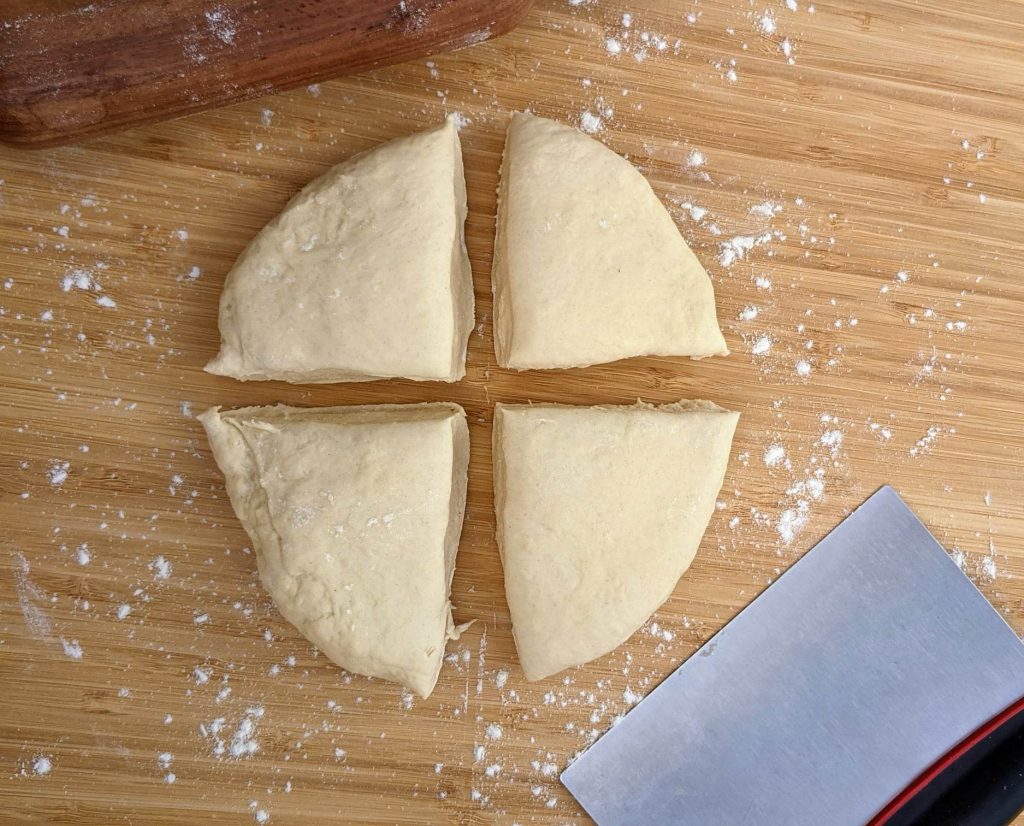 Pizza dough without yeast?
Let's face it, in a perfect world we'd all have yeast in our pantry that didn't expire 2 years ago…. but alas we do not. Your next thought might be "well I'll just go to the grocery store and buy it." wrong again bucko! I've been meaning to buy instant yeast for three weeks. THREE WEEKS. I've been to the grocery store at least 5 times…do I have yeast? nope. When I finally remember to buy it, will it ejecto-seato into the pantry and not come out until it's expired? Yes.
Good news! Baking powder can be used as a substitute for yeast in dough because it is a leavening agent. That sounds fancy right? That means it helps dough rise and become light and airy.
When baking powder is used in place of yeast, it creates a chemical reaction that causes the dough to rise quickly, making it ideal for recipes that require a shorter rising time. This makes it a good option for quick breads, cakes, pancakes and pizza dough.
Another advantage of using baking powder as a leavening agent is that it is a pantry staple and can be found in most kitchens, unlike yeast which acts like a princess and needs to be stored at a certain temperature and expires rather quickly (how rude.)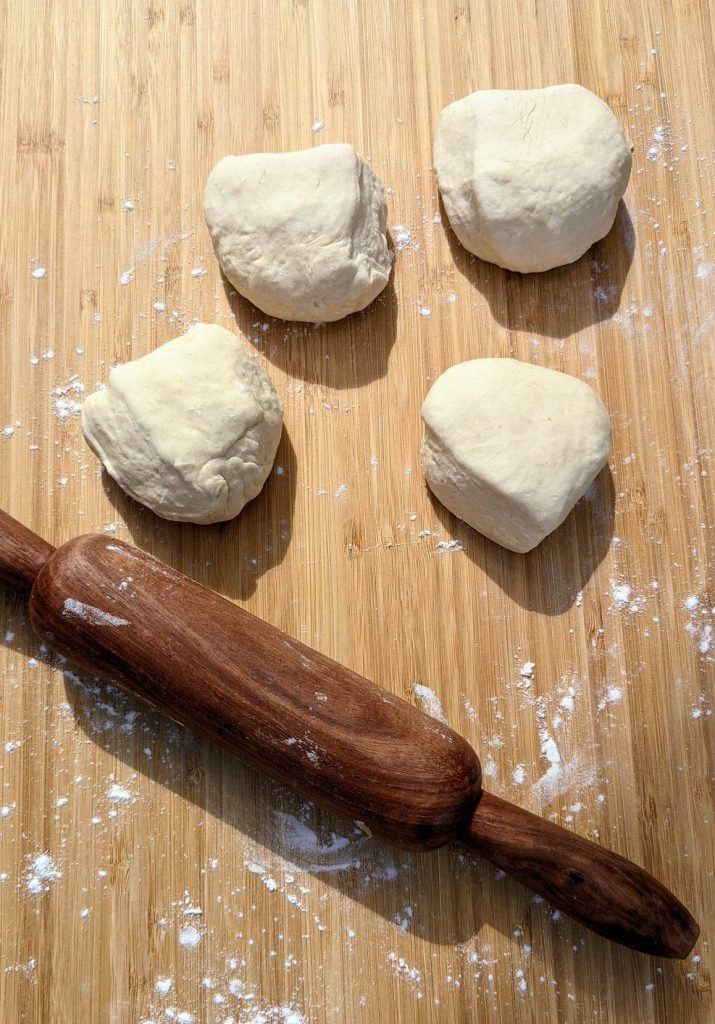 Why not just use two ingredient dough?
The two ingredient pizza dough definitely does come with some advantages: It's super high in protein! This means it's going to be more filling than regular dough.
If you don't know what two-ingredient pizza dough is this is the recipe: Two Ingredient Pizza Dough.
It's originally a weight watchers recipe that's been around forever.
I really do love two-ingredient dough but I hate how sticky it is. I feel like I just sit there adding more and more flour to get to a point where I can roll it out properly. More flour = more calories
Another reason I choose my homemade pizza dough over the two-ingredient dough? Mine's lower calorie. The only ingredients in this recipe that have calories are the flour and the baking soda.
Finally the last reason I'd pick my recipe over two-ingredient dough? Most people don't just have a tub of unflavored 0% greek yogurt sitting around in their fridge. There's only so many recipes that can use it and buying it to make a few pizzas and then having the rest go bad doesn't sit well with most people.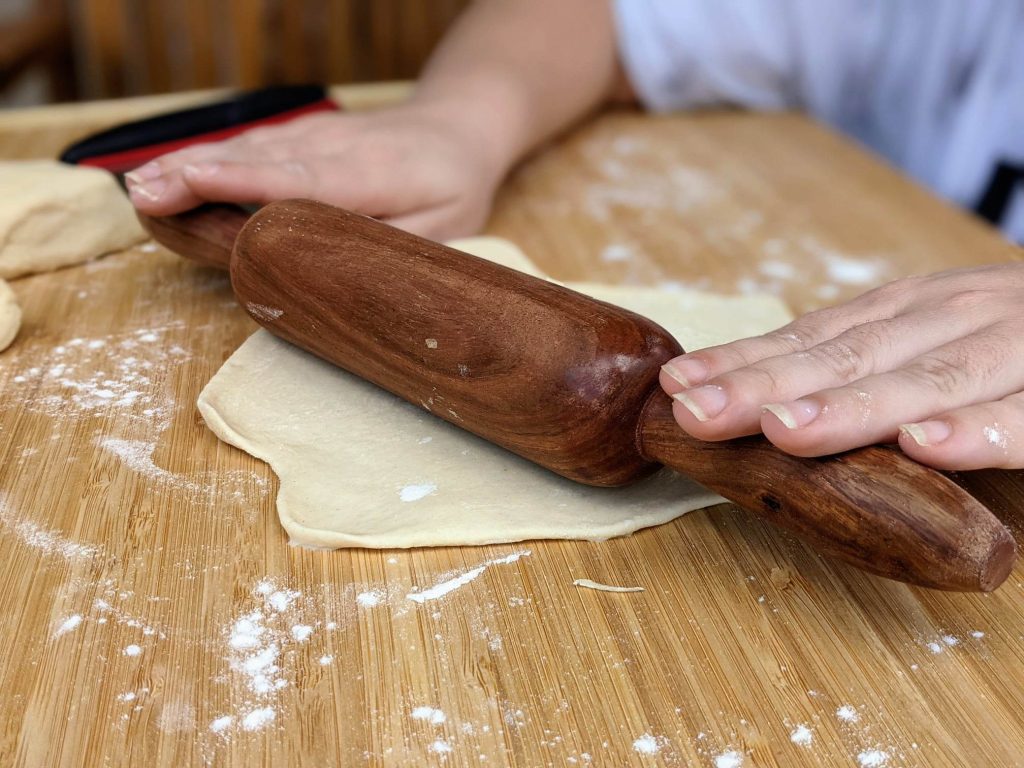 Do I need to knead this?
Unlike most bread recipes where you'll need to extensively knead the dough most pizza dough only needs 1-2 minutes of kneading. Once you combine your ingredients together and are able to form a proper dough ball you really shouldn't need to knead this further.
This recipe is easy enough on the hands that I generally don't break out my stand mixer with dough hook. Occasionally I use a wooden spoon to combine everything but lately I've just been using my hands to mix this.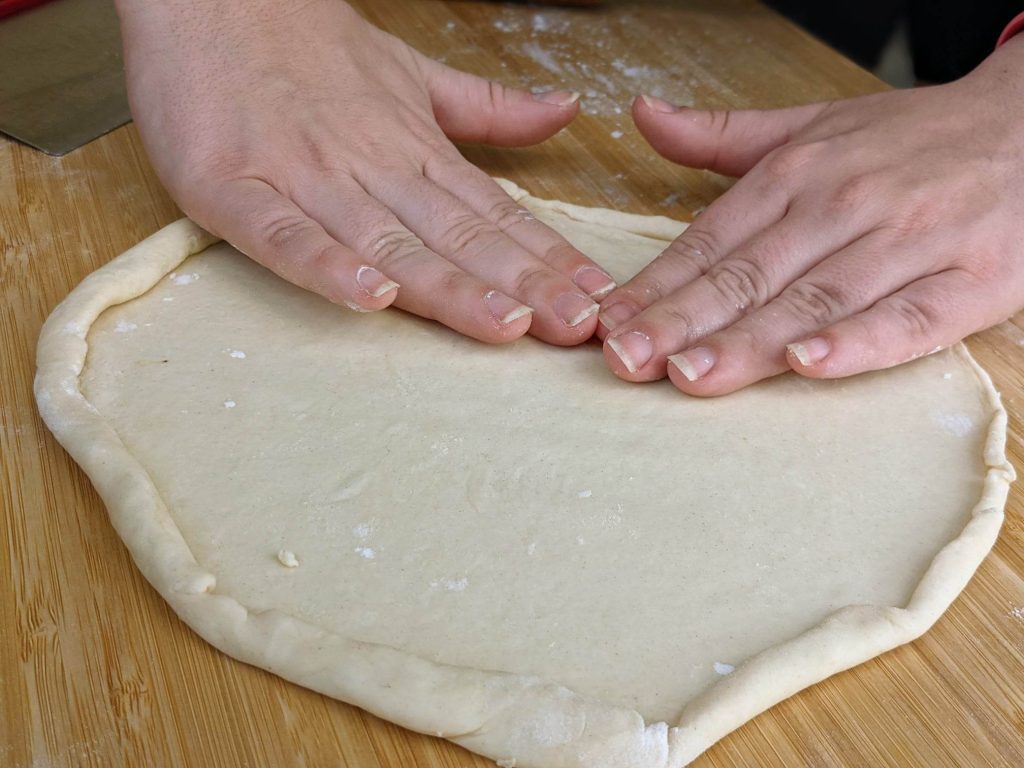 Why is my dough sticky?
This dough is what everyone wishes they had in their relationship with their spouse. It'll tell you exactly what it needs. Too sticky? add in 1/2 tbsp of flour until it's smooth. Falling apart and too dry? add in 1/2 tbsp of water until it's smooth. Don't you wish all relationships were that easy?
4 Ingredient Pizza Dough ( No Yeast, No Weird Ingredients, 15 minutes)
Course: Dinner, Lunch
Cuisine: American
Difficulty: Easy
This pizza dough recipe is so easy and rolls out so fast. It's lower calorie than two-ingredient pizza dough and uses only staples you'd already have in your pantry.
Ingredients
355g All Purpose Flour (about 2 1/2 cups)

12g Baking Powder (3 tsp)

7g Salt (1 tsp)

187g Water (roughly 7oz)

60g Pizza Sauce (NOT INCLUDED IN CALORIE LISTED)

28g Shredded Mozzeralla (NOT INCLUDED IN CALORIES LISTED)

Garnish of choice: basil, oregano, Italian seasoning
Directions
Preheat your oven to 400°F (200°C).
In a large mixing bowl combine flour, salt and baking powder. whisk together until these are combined
Form a hole in the middle of your flour and start SLOWLY pouring in water, I recommend adding 50-100g to start. using a spoon or your hands mix into the water. Continue adding water SLOWLY until your dough isn't too dry and isn't too sticky
Once you've formed a dough ball cut into four equal slices. Roll each into a ball.
Lightly flour your work area (I use 1 tsp of flour per crust), roll the dough into an 8 inch pizza folding in the edges to make a crust
Transfer your dough to a non stick pizza pan, large baking tray or a pizza stone (I recommend this one for a perfect crust everytime!)
Add on your pizza sauce and shredded mozzarella. Cook for 15-17 minutes.
Notes
Store pizza dough tightly in cling wrap in the refrigerator for up to 24 hours
Can be stored in the freezer for longer – I recommend pre-assembling your pizza so you can pop them in the oven and cook from frozen
CALORIES LISTED ARE ONLY FOR THE DOUGH.