What is Crumbl Cookie?
If you've been living under a rock for the past few years or your area hasn't been graced with the presence of the cookie gods. Crumbl Cookies is a fast-growing cookie company that is taking the world by storm. New stores are popping up left and right with amazing grand opening week menu's including what some say is the world's best chocolate chip cookie, to the famous milk chocolate chip, to the new flavors that keep coming out, Crumbl Cookies has something for everyone.
Whether you're a fan of the classic pink sugar, the zesty lime filling, the tender cookie with a swirl of smooth cinnamon buttercream, or the crunchy blueberry muffin streusel, Crumbl Cookies has it all and with its weekly rotating menu, you'll never get bored of the same old flavors.
One of the unique things about Crumbl Cookies is their concept of a rotating menu. Each week, a different specialty flavor is added to the menu, so you can always try something new! If you happen to fall in love with a flavor that's only available for a single week, don't worry I have a ton of copy cat recipes coming that are a fraction of the calories. What's better than getting past that crumbl cookie craving, having your all time favorite cookies and staying within your calorie limits for the day? Nothing. Nothing is better.
The founders have created a cookie initiative that brings joy to everyone. They believe in using only the freshest ingredients, from the real almond extract in the perfect pink swoop of real almond frosting to the fresh lime in the zesty lime filling. And let's not forget about the milk chocolate chips and creamy white chips, which bring a depth of flavor to the cookies that is unmatched.
If you're looking for a warm cookie straight out of the oven, that's where I come in. No need to drive all the way there, wait for your curbside pickup order and come home with a box of cookies instead of just the one you said you'd buy. ( I'm looking at you cookie 4 pack )
Crumbl Cookies also offers gourmet flavors, like the galaxy brownie, which is a blend of layers of chocolate brownie and a smothering of melted semi-sweet chocolate. And if you're looking for a breakfast favorite, the caramel popcorn cookie, which has a rich chocolate cookie base with a touch of white sugar, a sprinkle of cinnamon sugar, and a lemon glaze on top was delicious.
Whether you're enjoying a warm cookie on a Monday morning or sharing a box of the best cookies with your crazy cousins, Crumbl Cookies will bring joy to your taste buds and make you smile. Unfortunately for a lot of us this means added numbers on the scale and subtracted numbers from our bank accounts. This recipe cuts the calories in half and will save you so much money! You just need to remember to only eat one or two!
Next time you're in the mood for something sweet instead of heading to your nearest Crumbl Cookie – come visit me and make your own healthy crumbl cookies instead.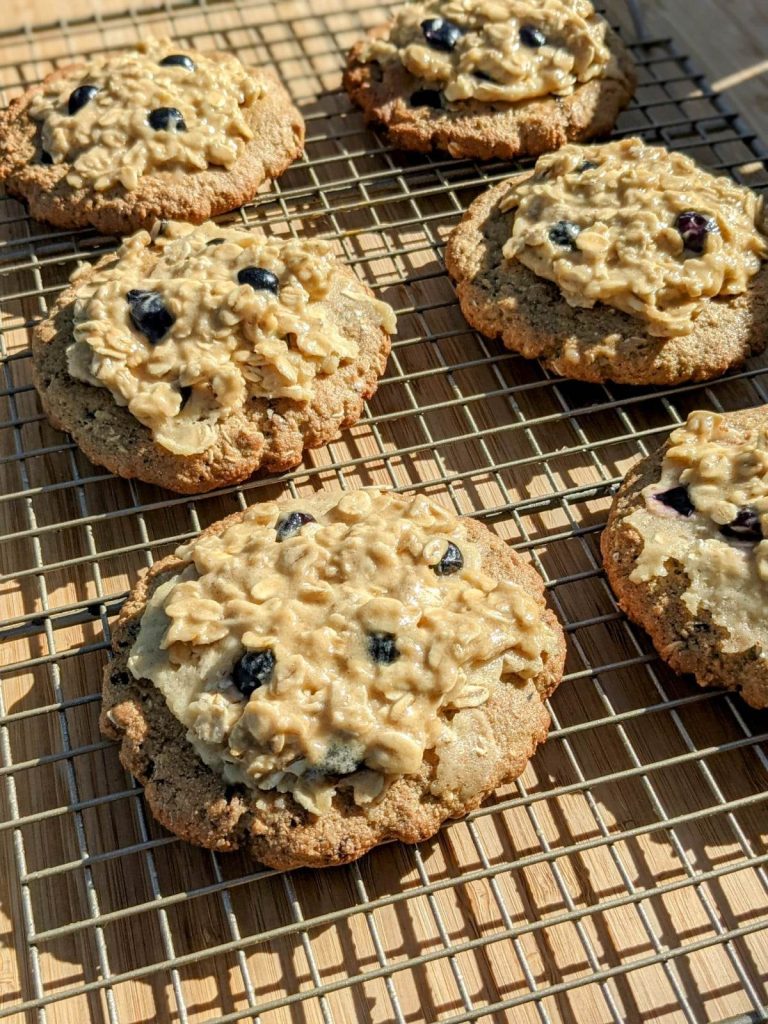 How is this lower calorie?
We use a Muffin mix in this recipe and then we add in a bunch of other lower calorie ingredients to extend the batter further without compromising the flavors of cookies. We skip the butter and use unsweetened applesauce, milk, eggs and REAL SUGAR to bring down the calorie count significantly and still have delicious cookies.
The topper does use light butter. If you haven't bought this yet, do it. We use it in so many recipes and at 35 calories a serving it's allowed me to continue to make ridiculous baked goods and trick all the cookie lovers in my family into thinking they are eating full fat, super high calorie butter. (Also they'll do anything for a few free cookies) The two we use the most often are: I can't believe it's not butter light or Country crock light (Neither of these are affiliate links, I make no money if you click them. They are just regular links to walmart) We've been able to find it in walmart, target and most grocery stores. Just make sure you get the one specifically labeled "Light". The regular version has almost the same amount of calories as butter.
To bring the calorie counts of this cookie down further you could skip the the streusel-like topping. Personally I think it adds so much to the cookie and takes no time to make that it's worth adding in.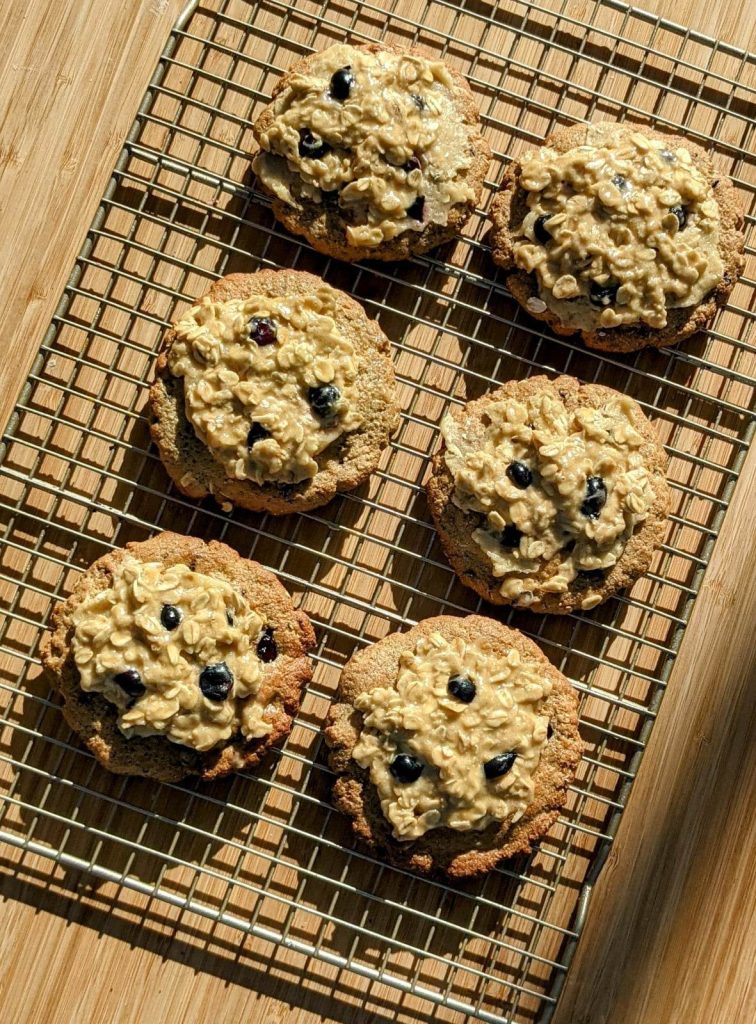 The macro / calorie breakdown:
This will largely depend on the specific ingredients you use. You do not have to use the same brand ingredients as me to get the same calorie counts but for reference I use:
Kodiak Cakes Blueberry Muffin Mix – you can use whatever blueberry muffin mix you feel like using! Just note that the calories might be different and the overall protein will be lower.
Good & Gather (Target) Old Fashioned Oats – I wouldn't sub for instant oats or any other type of oats but calorie counts are pretty standard across all brands for oats.
Kirkland Shelf Stable Unsweetened Almond Milk – I bake and cook a lot. like a lot, a lot. We fly through almond milk in my house so we buy the giant shelf stable packs from costco. There won't be much of a calorie difference if you stick to unsweetened regular Almond Milk. If you sub for a sweetened or vanilla the calories will differ slightly
Light Butter – If you use one of the two that I listed above they'll be the same calories as the recipe. If you use real butter or do not use a light form of I can't believe it's not butter this will up the calories significantly
Unsweetened Applesauce – These are the same across the board calorie wise. If you go with a sweetened applesauce because that's what you have on hand it'll barely make a dent in the calories across 10 cookies.
FOR EACH COOKIE:
191 Calories
36g of Carbs
1.8g of Fat
8.4g of Protein
FOR THE TOPPING (35g per cookie):
63 Calories
10.3g of Carbs
1.9g Fat
1.1g Protein
OVERALL CALORIES AND MACROS:
254 Calories
46.3g Carbs
3.7g Fat
9.5g Protein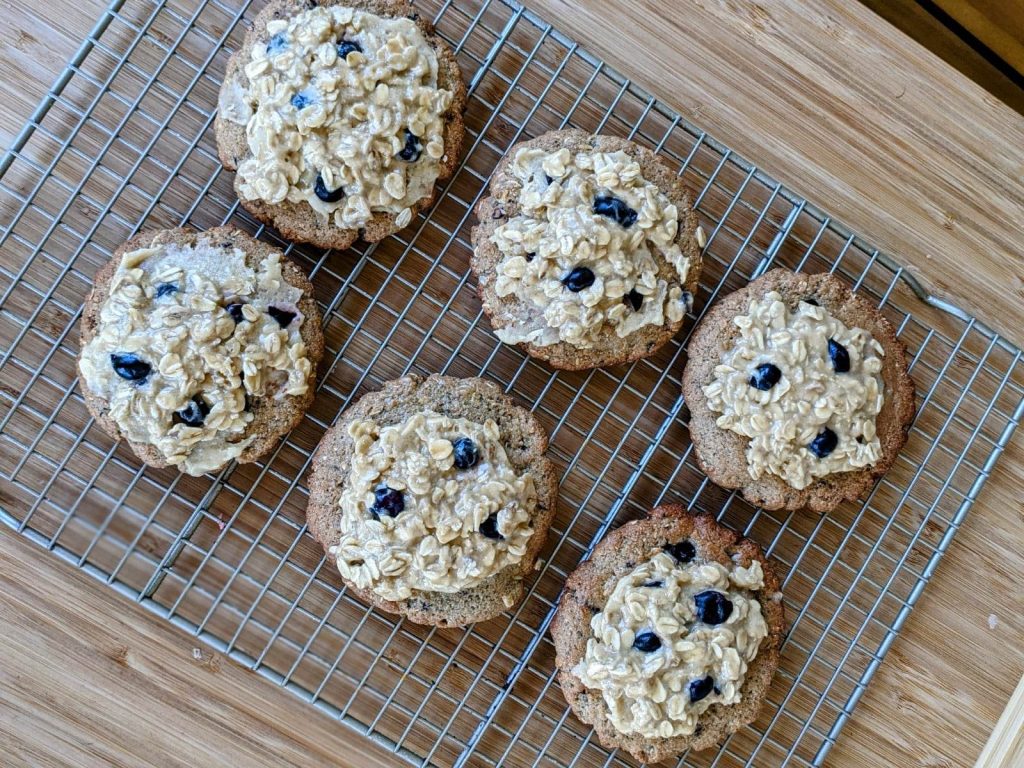 Can I Meal Prep These?
Yes!!! We make these for the week and pop them in the toaster oven for 1-2 minutes every morning for breakfast, We don't bother preheating the oven either, we turn it on, throw them on cookie sheets and pop them right in the oven! To store the cookies make sure you keep them in an airtight container in the refrigerator. I have not tried freezing these yet. You can also wrap half of the cookie dough ball in saran wrap and save it in the fridge for a few days to bake later. So far the dough was fine to bake after 3 days in the fridge. I did not test it longer.
If you plan to microwave these every morning I would microwave them without the topping and add the topping after. The topping is mainly light butter and will become a melted pool in the microwave.
Crumbl Blueberry Muffin Cookie with Streusel – Healthy Copycat
Course: Dessert
Cuisine: American
Difficulty: Easy
Ingredients
FOR THE COOKIE

396g Blueberry Muffin Mix (1 box, dry mix)

50g Old Fashion Oats (1/2 cup + 2 tbsp, dry)

50g Unsweetened Apple Sauce (1/4th cup)

1 Egg

60ml Almond Milk (1/4th cup)

50g Light Brown Sugar (1/4th cup)

FOR THE TOPPING

57g Light Butter (1/4th cup)

50g Old Fashioned Oats (1/2 cup + 2 tbsp, dry)

30g Brown Sugar (1/8th cup)

45g All Purpose Flour (3/8th cup)

40g Blueberries (1/4th cup)
Directions
MAKE THE COOKIES
Preheat oven to 350F and line a baking sheet with parchment paper and set aside.
Mix together brown sugar, applesauce, egg and almond milk. Mix until smooth.
Mix in the Muffin Mix and Oats. Optionally you can add in additional blueberries but I usually don't
Scoop out 10 equally sized cookie dough balls, place them on the baking sheet. Each ball should be approximately 80g in weight.
Using the bottom of a glass or your hands press down on the cookie dough to "flatten it" This dough rises more than it spreads, to get the right shape you'll use this method to preform the massive cookies
Bake in the preheated oven for 8-10 minutes, let cookies cool down on the baking sheet for 15-20 minutes.
TO MAKE THE TOPPING:
Add all ingredients together in a bowl and mix, I like to cut the blueberries in half and mix them in last.
Once cookies have come out of the oven and cooled, add 35g of topping to each cookie and place back in the over for 1-2 minutes. If you are meal prepping these and plan to eat them after warming them in a toaster oven later this step is not necessary. If you have heat-treated your flour before mixing it in this is not necessary.
Notes
I recommend heat-treating flour for the topping if you don't plan to stick it back in the oven after topping.
Make sure not to overcook these cookies because they do not have real butter so it's much easier to dry them out.