Usually made by layering creamy chicken and tortillas (lasagna-style) the original version of this recipe packs 3832 calories (958 per serving)! We're going to make a slim down version that doesn't compromise on the punches of flavor! The entire recipe contains 990 calories (248 calories per serving) and the best part is you can tweak it to fit almost any calorie budget by adding or reducing the amount of chicken. You could also just eat the entire pan yourself which would be way more filling than the one small serving of the original.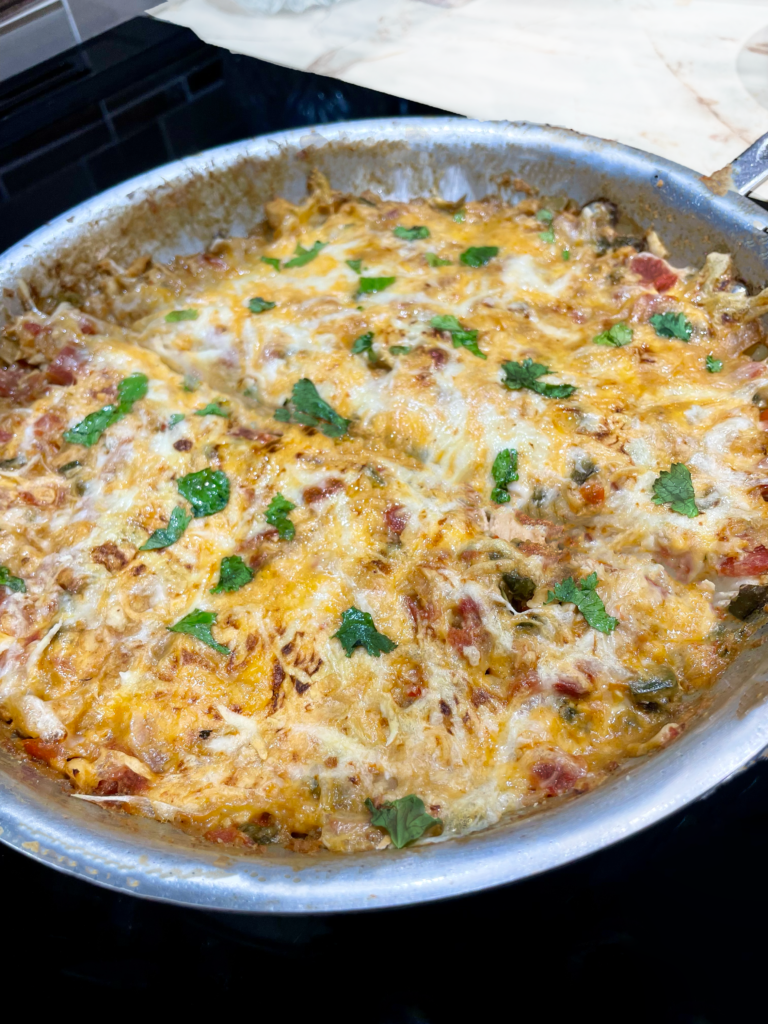 What Is King Ranch Chicken Casserole?
King Ranch casserole is a chicken casserole but done Texas style- More Cheese, More Spice and definitely more calories. King Ranch casserole is made by layering chicken, tortillas, peppers and tomatoes with green chiles in a creamy sauce that was made with a can of condensed soup. The original version takes a lot of time which no one has on a Tuesday night, this recipe allows you to have dinner on the table in 30 minutes or less, use only one pan to cook and keep your calories in check.
How'd you cut the calories down?
Heres how we made King Ranch Casserole into a low calorie meal.
1) Pack on the Vegetables
By adding Bell peppers, poblanos and a ton of onion we add in a bunch of color, flavor and bulk without upping the calorie counts significantly. Did you know an entire red bell pepper is only 32 calories? That's only 8 calories per serving!
In this recipe I used Red Peppers, Poblano peppers and jalapeño peppers. Personally I love the burn your mouth kinda spicy, if that's not you I would sub accordingly:
Really Spicy: Use all three
Kinda Spicy but pretty mild: Get rid of the jalapeño and add in some additional poblano pepper
Not Spicy: Sub out the Poblano peppers and jalapeño with Red Peppers, Green Peppers and Yellow Peppers
2) Skip the Thick Soup and Use this hack instead
Condensed Soups pack on so many unnecessary calories to this recipe. What we're going for with condensed soup can be achieved without it and without the excess calories, were looking to get a creamy silky sauce for not a ton of calories. In this recipe we lightly add in flour over our vegetables before adding in the chicken broth. This thickens up the broth and when you add in the reduced fat cream cheese you'll have a nice thick creamy soup for no where near as many calories.
3) Precooked chicken breast makes life easy
I tend to use Rotisserie chicken breast from Costco in this recipe but any leftover chicken breast or precooked chicken breast will do, just make sure you adjust the calorie counts for the chicken (and all other ingredients you are using!). If you don't have any on hand you can cook chicken breast on the stove prior to starting this recipe. Rotisserie chicken can be used in so many recipes and saves you time. I do want to mention Rotisserie Chicken is high in sodium, if this is something you watch this might not be the best route for you. If you want to add in some extra fat and up the calories a little bit you can use chicken thighs instead because lets all be honest: fat makes everything taste better.
Print
Ingredients
1 ½ cups chopped yellow onion (160g) (64 calories)

1 cup chopped red bell pepper (149g) (46 calories)

¾ cup chopped poblano pepper (17g) 48 Calories

1 tablespoon finely chopped jalapeño (8g) 2 Calories

1 tablespoon minced garlic (13g) 19 calories

½ teaspoon ground cumin (1.5g) 4 calories

2 tablespoons all-purpose flour (15g) 57 calories

1 cup unsalted chicken broth (254g) 10 calories

2 ounces reduced-fat cream cheese, at room temperature (57g) (120 calories)

3 Servings of Cooked Rotisserie Chicken Breast (255g) (330 calories)

1 (10 ounce) can no-salt-added diced tomatoes with green chiles, drained (60 calories)

2 (6 inch) carb balance tortillas (140 calories)

¼ teaspoon salt

1/4 cup shredded fat free cheddar cheese (28g) (45 calories)

1/4 cup shredded fat free mozzarella (28g) (45 calories)

2 tablespoons chopped fresh cilantro
Print
Directions<br><br>I recommend prepping all ingredients prior to starting this recipe, in the beginning you'll have 7-8 minutes while the peppers soften but after that you won't have more than a minute between each added ingredient.
Turn on your ovens broiler to high, your pan is going to go in the broiler at the end of the recipe to melt down the cheese.
Heat an ovenproof skillet to medium to high heat, use cooking spray sparingly, like press count to one and release. Unless you are cooking with stainless you do not need much oil at all despite every recipe video pouring in a gallon of oil to the pan.
Once the pan is simmering add in the chopped onion, bell peppers, poblano peppers and jalapeño. Cook this for 7 to 9 minutes, stirring occasionally.
Once the peppers have softened you are going to add in garlic and cumin. Stir this in for about a minute and then sprinkle flour over the vegetables. Once flour has been added you will need to stir consistently until the entire mixture has been coated.
Once coated you'll add in your chicken broth and bring the mixture to a boil. Add in your cream cheese and stir until everything has combined. Everything should be looking thicker and creamier at this point. Add in your tomato, chicken, tortilla pieces and salt. Stir everything together for about a minute until you are satisfied with the consistency.
Sprinkle evenly with cheese and then place the skillet under the broiler, The cheese should be melted and browning within 2 minutes. Top with some fresh cilantro.
Use a spatula to cut into four pieces within the pan and use the spatula to serve.
**This recipe holds it's heat really well, It took 10-15 minutes to cool down before we could eat it, This gave us enough time to plate everyones dinner, wash the pan and clean up the kitchen a little. We loved that we didn't sit down to an ice cold dinner after finishing clean up.
Nutrition Facts
4 servings per container
---
Amount Per ServingCalories248
% Daily Value *
Total Fat 6.5g

10

%
Sodium 572mg

24

%
Total Carbohydrate 16.25g

6

%
Protein 26g

52

%
---
* The % Daily Value tells you how much a nutrient in a serving of food contributes to a daily diet. 2,000 calories a day is used for general nutrition advice.