I remember I used to despise meal prep. Not only did it take forever but it the food was always lackluster at best. Every week all I found myself making was some variation of plain chicken breast and rice over and over. By the end of the week I was ordering doordash completely off track again. My goal with this recipe was to make something I actually wanted to eat day after day.
Another issue I ran into with most meal prep recipes is that I'm a small woman right? I'm not here trying to find meal prep ideas to gain weight and muscle. I'm looking for high protein meal prep ideas that are low calorie and filling. Almost every meal prep recipe I came across was geared at men gaining muscle and we're 600-700 calories for lunch. That's half my day and I didn't gain weight because I only wanted to eat once or twice a day.
Our Honey Buffalo Beef and Broccoli Meal Prep comes in at only 429 calories a serving and 30g of protein so you'll be full all afternoon and you'll have all of your lunches ready for the week in just about an hour!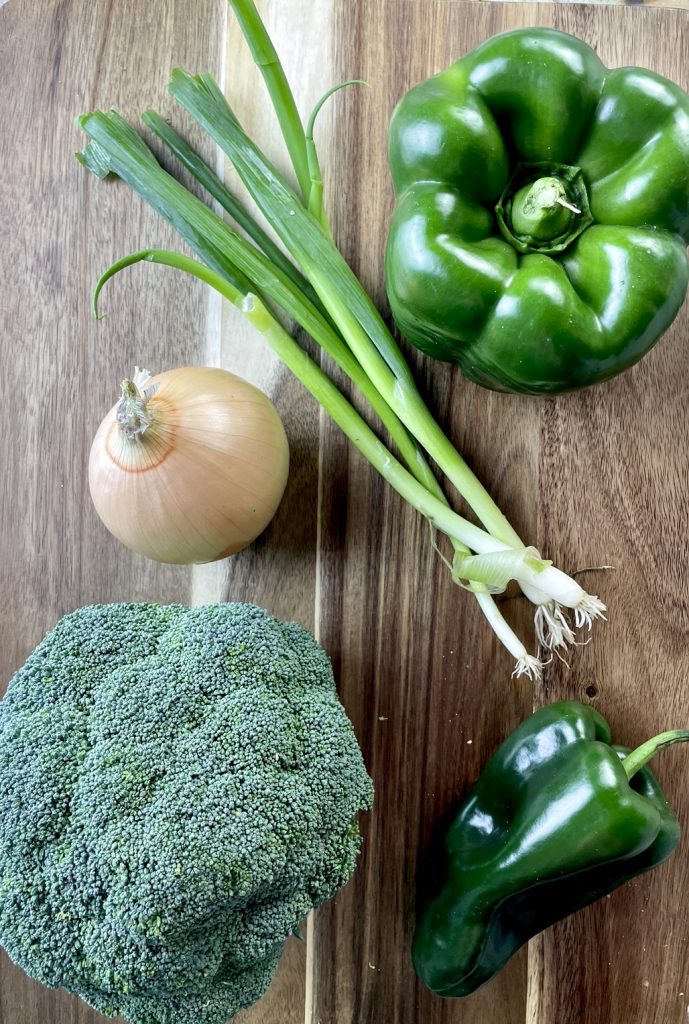 Ingredients You'll Need
93/7 Ground Beef – You can save calories by getting 96/4 but personally I like my ground beef to taste like ground beef and not cardboard.
Poblano Peppers – Poblano peppers are one of my favorite peppers. I don't think there is any suitable poblano pepper substitute but you could possibly add a little jalapeño for some extra heat or double the green bell peppers instead.
Broccoli – Broccoli adds some bulk to this recipe, if veggies aren't your thing you can leave it out or you could substitute it with zucchini or brussels sprouts
Onion – I use sweet onion in this recipe but you can sub 1:1 yellow or white onion. I haven't tried red onions yet.
Garlic Powder – We're using garlic powder vs minced garlic to save some calories in this recipe (and it's what I usually have on hand!) If you are going to use minced garlic, use 10g
Green Onions – If you don't have these on hand and have no use for them during the week you can leave them out. These are mainly just to garnish the dish and it adds minimal flavor
Green Peppers – You can sub these for red peppers or if you want to up the heat get rid of these and add in an additional 125g of poblano peppers.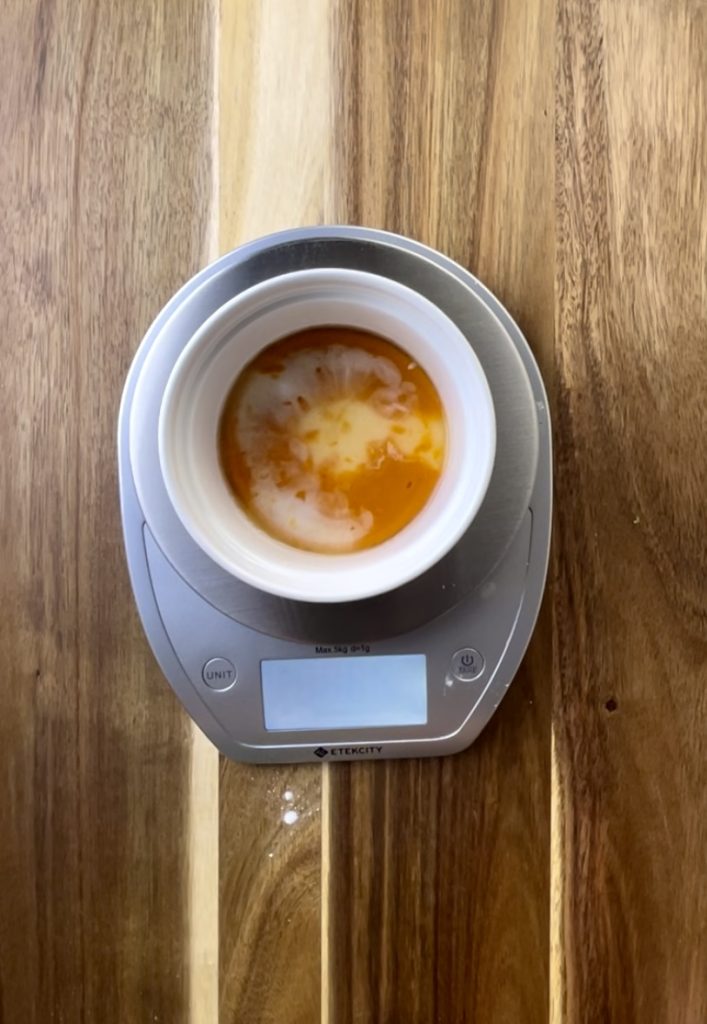 For the Sauce
Don't skip the sauce or try to use less honey to make this lower calorie, This is what makes this recipe shine!
Mild Buffalo Sauce -I use Frank's Mild Buffalo sauce but any mild buffalo sauce will do, just try to find one that's lower on the calories
Distilled White Vinegar – There isn't really a good sub for white vinegar other than apple cider vinegar – you can use either and it's a 1:1 swap
Honey – I use local honey because it helps with allergies native to your area. You can use any honey you want but you get bonus points if it's shaped like a bear
Corn Starch – Please. PLEASE PLEASE PLEASE. When you are making the sauce do not add in the corn starch until you have thinned it with a little bit of water. Your sauce isn't going to mix, I know you're thinking to yourself "Yes it will, Kristen you're wrong." nope. No it won't. Thin it with water.
Potatoes
How sick are you of seeing meal prep containers filled with rice? Don't get me wrong your girl loves rice but the amount of times I've seen meal prep done with a whopping serving of white flavorless rice makes me want to scream. Potatoes are so easy to make, filling and so much lower calorie than rice….but I'm not going to tell you don't side this with rice, you do what makes your belly happy and keeps you on track. If you do side this with rice I would save a little bit of the sauce to pour over it before you re-heat it.
Potatoes – I use mini potatoes because they are super easy to cut up and get exact calorie counts without much waste, If you only have large potatoes on hand use those instead
Garlic Powder, Salt, Black Pepper, Paprika, Onion Powder – This has been my go-to potato seasoning blend for as long as I can remember. Lightly spray the potatoes with cooking spray or any type of cooking oil (We use avocado oil) and when I say lightly – take the amount you thought was lightly and cut that in half. The smallest spritz will thoroughly coat the potatoes.
Honey Buffalo Beef & Broccoli Meal Prep
Course: Lunch
Cuisine: American
Difficulty: Easy
Ingredients
FOR THE BEEF

567g (20 oz) 93/7 lean ground beef

125g Poblano Pepper (2 peppers)

125g Green Bell Pepper (1 large pepper)

282g Broccoli (1 head)

125g Sweet Onion (1/2-1 onion)

1 Tbsp Garlic Powder (or 10g minced garlic)

FOR THE SAUCE

60g Mild Buffalo Sauce (I use Frank's)

80g Local Honey

20g Distilled White Vinegar

15g Corn Starch

Water to thin

POTATOES

750g Mini Potatoes

1 tbsp Garlic Powder

1 tbsp Garlic Powder

1 tbsp Black Pepper

1/2 tbsp Salt

2 tsp Paprika

1 tsp Onion Powder
Directions
Chop poblano peppers, onion & green peppers. Cut stalk off broccoli and cut florets in half, Cut mini Potatoes into sixths, Set Aside
Combine Mild buffalo sauce, white vinegar and honey into a bowl, separately mix together corn starch with a small amount of water until thinned. Once thinned add to the rest of the mixture and stir until combined. Set Aside.
Move cut potatoes into a bowl and very lightly coat with cooking spray. Add garlic, salt, black pepper, paprika and onion powder and toss until all potatoes are coated, Move to the Air fryer and cook at 375 for 14 minutes, shake basket every 3-4 minutes (or bake in the oven at 375 for 45-55 minutes)
Add broccoli to the air fryer for 6-8 minutes at 375, shake basket every 2 minutes. Broccoli will look a little burnt and crispy once done
In a skillet on medium heat add poblano peppers, onion, green peppers & garlic powder (or minced garlic), cook for 4-5 minutes stirring occasionally.
Move the peppers & onions to one side of the pan, add in ground beef on the other side of the pan, salt and pepper liberally (You can also use a different pan but I don't like extra dishes), Cook until meat is browned
Once meat is browned combine peppers & onions from the other side of the pan, add in broccoli and sauce. Stir until all ingredients are combined.
Split into equal parts in 5 meal prep containers, add equal parts potatoes to the other side
Optionally garnish the beef with green onions
Notes
Divide recipe by 5 to get individual portions, for a larger portion size divide by 4
Make sure you combine the cornstarch and water separately from the rest of the mixture. Anytime I've tried to just add it in it'll clump up. It's a bad time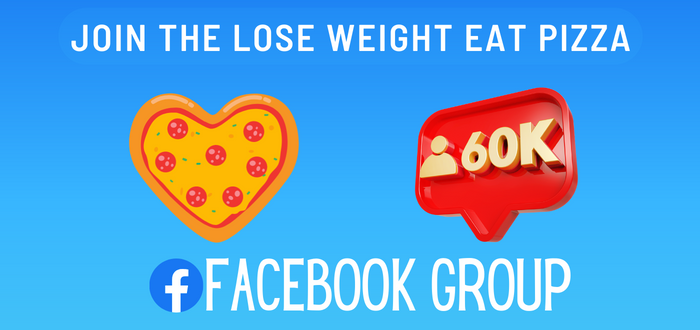 Nutrition Facts
5 servings per container
---
Amount Per ServingCalories429
% Daily Value *
Total Fat 8.6g

14

%
Total Carbohydrate 59g

20

%
Protein 30.5g

61

%
---
* The % Daily Value tells you how much a nutrient in a serving of food contributes to a daily diet. 2,000 calories a day is used for general nutrition advice.