This week most of the country has plunged below freezing, It even hit 39 degrees here in southwest Florida!
It's Christmas time and it's freezing! With the cold weather I really wanted a nice big cup of hot chocolate. I'm not going to recommend you use the "low calorie" hot chocolate mixes, those just give you less grams of hot cocoa mix and try to trick you. They taste like dirty chocolate water. Big no.
What we can help with is the Marshmallow situation. Did you know 2/3rds of a cup of mini marshmallows is 100 calories? or that 1 jumbo marshmallow is 90 calories? Our snowflake marshmallows are only 12 calories and are about the size of two jumbo marshmallows.
We use these at toppers for hot chocolate and use the scraps to melt down and make rice crispy treats with! The secret ingredient in making these marshmallows super low calorie is Allulose.
What is Allulose:
Allulose is a naturally occurring sugar that is found in plant foods in very small amounts. It can also be commercially manufactured.
Allulose is not a sugar alcohol – it is still not digested the same as regular sugar, excessive amounts may cause a tummy ache but no where near the pain Erythritol (and most Monkfruit sweeteners) do.
Allulose is 70% as sweet as sugar
Allulose does not increase blood glucose
Allulose is naturally low in calories. Most nutrition labels will call this a zero calorie food. This is not entirely truthful. Allulose contains .4 calories per gram, because the standard serving size for sugar-like products is 2 tsp (8g) Allulose would only be 3.2 calories per serving (sugar is 30!) and companies are allowed to list anything at or under 5 calories per serving as zero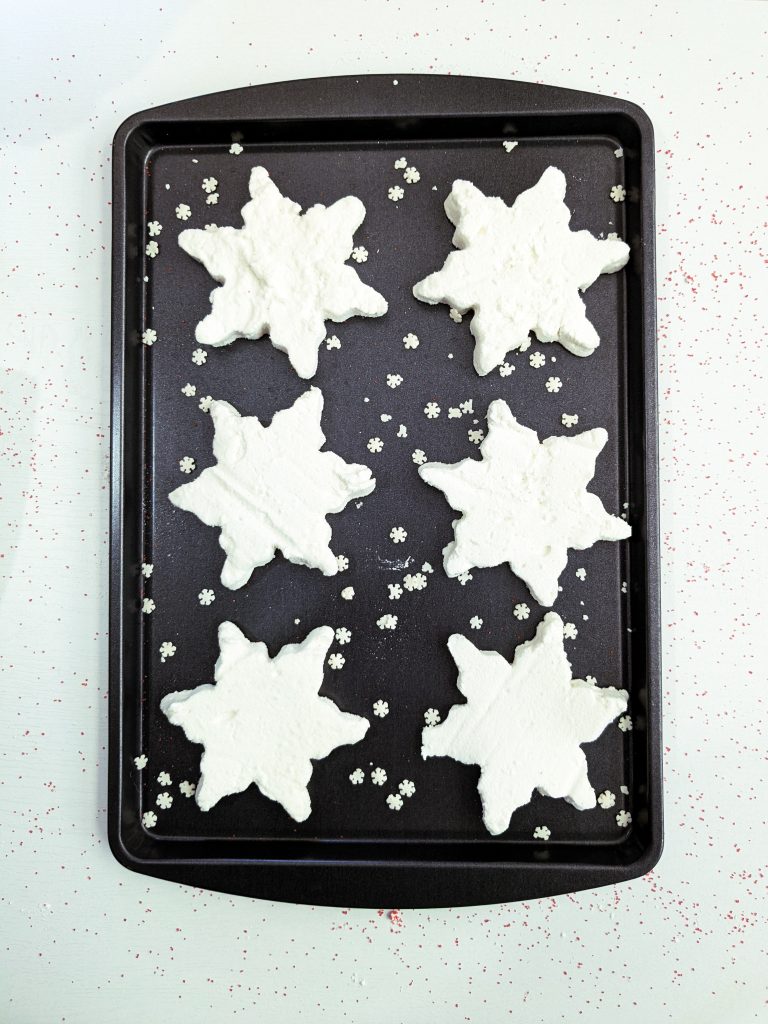 12 Calorie Snowflake Marshmallows
Course: Dessert
Cuisine: American
Difficulty: Easy
Ingredients
1 1/2 cups Allulose

2 Packets of Unflavored Gelatin (57g)

1 tbsp Vanilla Extract

1/4 tsp Salt

Corn Starch or Arrowroot Powder (for dusting)
Directions
Add 2 packets of Gelatin into the bowl of your mixer, add in 1/2 a cup of water, stir lightly with a spoon and let bloom (sit and soak up water for 5-10 minutes)
In a medium saucepan add 1 1/2 cups of allulose, 1/2 cup of water and 1/4th tsp of salt. Stir until dissolved
Let mixture simmer until mixture starts to have a syrup like texture – mixture should be bubbling / boiling
Pour mixture into the gelatin in your stand mixer and add in 1 tbsp vanilla extract
Beat on the highest setting for 12-15 minutes. If you are using a handheld mixer this may take 20-30 minutes. Beat until fluffy with stiff peaks.
Line an 8×8 pan or baking sheet with parchment paper and oil the paper. Make sure to thoroughly coat your hands and all utensils that will be touching the marshmallow with oil.
Spread mixture as evenly as possible and place in the fridge for a minimum of 8 hours or until dry
Sprinkle with cornstarch or arrowroot powder and cut with a snowflake cookie cutter
Use a knife to cut extra scrap marshmallow pieces into squares
Notes
Make sure your hands, baking sheet and any utensils that will touch the marshmallow are well oiled. If you skip this you will have a bad time.
Check the label on the Allulose you buy. Make sure the only ingredient is Allulose. A lot of brands have started mixing Allulose with Erythritol because its cheaper to produce.
I like to use the excess scraps to make rice crispy treats!
Do not overheat the allulose while making simple syrup – it will burn or you'll end up with melted hard candy
Nutrition Facts
16 servings per container
---
Amount Per ServingCalories12
% Daily Value *
Protein 4g

8

%
---
* The % Daily Value tells you how much a nutrient in a serving of food contributes to a daily diet. 2,000 calories a day is used for general nutrition advice.